WiebeTech RTX200H-QR - the drives go in two by two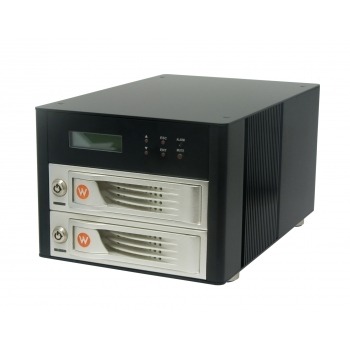 WiebeTech has a RAID array that features a grand total of 2 drives. That's only enough drives for JBOD, RAID 0, and RAID 1. But, it has several different interfaces for connecting to your computer and its and external enclosure.
You get your choice of eSATA, FireWire 800, FireWire 400, and USB 2.0. You can stuff up to two SATA drives of your choice in capacity in there and then just connect it to your computer and you are off.
The drives appear to be hot swappable with custom drive bays and they are lockable so some idiot can't just come along and rip one out. However, I would not recommend this system to anyone unless my life depended on it for several reasons, most of them dealing with price. First, there isn't an Ethernet interface, second, it only holds two drives, and third, you get this mediocre raid system empty, as in no drives included, for $499.95, do you know what you can get for storage space with $500? Lets suffice it to say that with the mediocre features this drive is offering up $500 is way too much for one of these without any drives included.
[wiebetech via Yahoo News]