WiBrain B1 UMPC gets an upgrade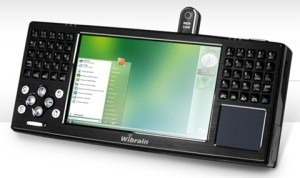 There is some new design features, specifically some new buttons and locations for old buttons, the keyboard is still split though. This device has a fairly amazing 4.8" WSVGA touch screen too, with a 1024x600 resolution which is pretty good for a UMPC.
It now runs a VIA C7M processor which gives it a whopping 1.2GHz clock speed, VX700 for graphics, and up to 1GB of RAM. You can get your choice of 30 or 60 gigabytes of storage as well.
There is a webcam that has a microphone as well, and the battery, with that amazing hardware list, lasts for 5 hours, that's pretty good if you ask me. Sure there are other UMPC's that are better in certain areas than this one, but I think this UMPC does a pretty good job of averaging out all the features, and the touch pad is nice too for easier navigation on a compact screen. No word on price or availability though.
WiBrain upgrades B1 UMPC [via mobilewhack]