White iPhone 4 Appears on Verizon Product Page [Update]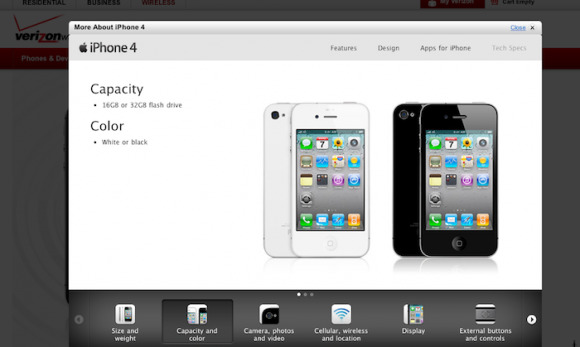 In most cases, when Apple launches a device, the rumors generally fade away. However, despite the fact that Apple's Tim Cook went on stage to help announce the official unveiling of the Verizon iPhone 4, there's still one rumor that just won't die. And, it doesn't make it any easier for it to disappear when images like the one below appear online. Verizon's product page for the iPhone 4 are online right now, and here we are looking at a white iPhone 4 again.
Verizon, nor Apple, have confirmed that a white version of the iPhone 4 is coming any time soon, and there was certainly no white iPhone 4 on hand to look at and touch at the Verizon announcement earlier today. And, these renders are missing some indicators that these are indeed the CDMA-variants that were just announced. More than likely, it's just another mistake, but it's one that could easily cause some to believe it's coming sooner than later.
[Update]: As one commenter below pointed out, Verizon has indeed fixed the "mistake," and the white version of the device is no longer seen on the product page. A short-lived dream.
[via MacStories]