Weye Feye brings mobile device smart view and remote control to DSLRs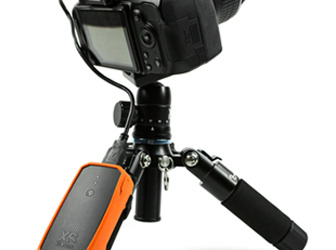 A DSLR is a hefty investment, and as such not all photographers are inclined to run out and update to the newest technology. WiFi-enabled cameras offer a very convenient feature, however: the ability to use a tablet or smartphone as a remote control and portable view finder. For DSLR owners who want the same feature, Weye Feye has announced a USB-based solution.
The device works by connecting to a DSLR via the USB port, at which point it projects a wireless signal that users can connect to with an iOS or Android device. Once connected, the feature then provides the same functionality you'd get from a WiFi-enabled camera, such as remote control and the ability to view footage from the camera in real time.
The device utilizes 802.11n wifi, and has a long distance range of about 260-feet from the camera. The latency that naturally results from using the wireless connection to view footage while recording is reported as 0.02 seconds, which is near imperceptible. There's support for many Nikon and Canon DSLRs, but photographers should make sure their camera is supported before buying.
There's both a Live View and a Gallery Mode. Live View is as the name suggests – a live video feed from the camera. The Gallery Mode, meanwhile, allows users to look at the images and content they've taken, as well as sharing those images with a different device. Different photography and video recording settings are available under Live View for adjusting picture and such without having to mess with the camera itself.
The Weye Feye is designed small in size, so the extra burden of toting around a wireless component isn't too bothersome. The device itself measures in at 3.3 x 1.8 x 0.6 inches, and runs on a battery that lasts 14 hours in Gallery Mode and between 7 and 8 hours in Live View. The Weye Feye will be available for $332 USD / 250 Euro this upcoming September.
SOURCE: GizMag