Western Digital unveils My Book Studio with E-label display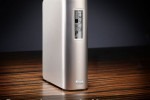 I already mentioned this morning that Western Digital unveiled a new My Passport Elite external hard drive. The company has also added a new external storage solution to its My Book Studio line called the My Book Studio with E-Label display.
The display maintains power even when the hard drive is unplugged allowing the user to label the contents of the drive and the display shows how much storage is left on the drive as well. The external storage solution is designed to work with Mac computers and has FireWire 800 interface.
The new drive is also TimeMachine compatible allowing for continuous, automatic backups. The new drives are available in 500GB, 1TB, 1.5TB, and 2TB capacities. The small display uses e-paper technology. Data stored to the drive is protected via 256-bit encryption. Prices for the drives range from $149.99 to $299.99 and they are available now.