Western Digital My Passport Studio Drive now with FireWire 800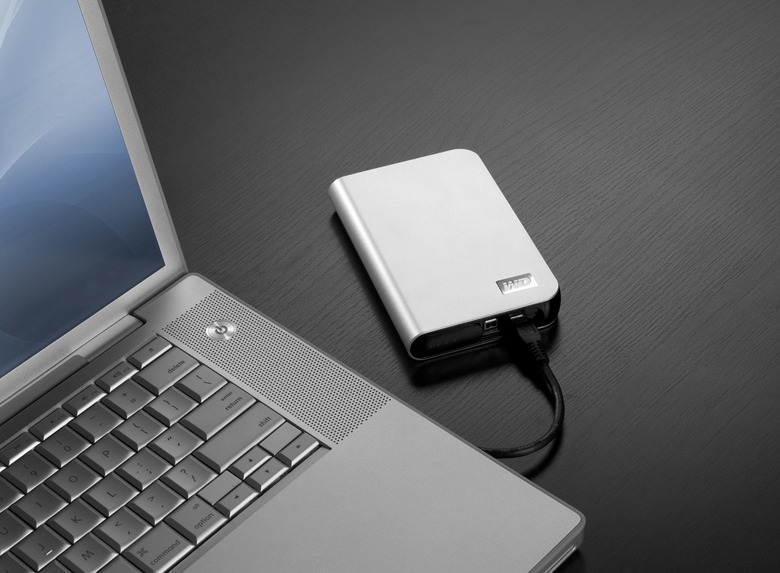 If you've lamented the speed with which you can back up your data then Western Digital has a solution for you. With their My Passport Studio Drive, you can now use FireWire 800 for faster transfer speeds.
These new portable drives have been outfitted with FireWire 800/400 for Mac users. Western Digital notes that these drives are the perfect companion to the new Apple MacBook Pros, and that definitely makes sense. Might as well take advantage of the fast FireWire transfer speeds when you can.
The idea here is to make transferring large files, especially large media files a breeze. A capacity gauge is built-in and it even lights up to tell you how much space is left and whether you're connected via FireWire or USB. You can buy the My Passport Studio Drive now in two variations. The first offers 400GB capacity and will cost you $229.99 and the second has a 500GB capacity and costs $249.99.
Press Release:
WD(R) Speeds Up My Passport(TM) Studio(TM) Drive With FireWire(R) 800 Interface

Mac(R) Computer Users, Creative Professionals Benefit from Large Storage, Fast Transfers

LAKE FOREST, Calif., Oct. 30 /PRNewswire-FirstCall/ — WD(R) (NYSE:WDC) today added a high-speed FireWire(R) 800 interface to its popular My Passport(TM) Studio(TM) portable drive to give Mac(R) computer users and creative professionals the fast performance they need. The new interface also makes this drive a perfect storage companion for the newly introduced Apple(R) MacBook(R) Pro computer. With FireWire 800/400 and USB interfaces, the new My Passport Studio portable drives offer up to 500 GB of storage capacity, are formatted for Mac computers and weigh less than 7 ounces.

"Photographers and videographers, be they creative pros or Mac computer enthusiasts, have a genuine need for large amounts of fast, portable storage for their high-definition files," said Jim Welsh, senior vice president and general manager of WD's Branded Products and Consumer Electronics Groups. "With a new FireWire 800 interface, My Passport Studio speeds up editing and transferring of big media files making it perfect for performance-minded Mac computer users on the go."

A built-in, illuminated capacity gauge tells users how much space is available in the drive and because it is powered by the FireWire or USB connection, it is truly portable. In addition, My Passport Studio can be used to backup Mac laptops using Apple's Time Machine(TM) application.

Availability and Price

Available now at select retailers and at WD's online store (http://www.shopwd.com/), MSRP for My Passport Studio with FireWire 800/400 interfaces and 500 GB capacity is $249.99 USD; MSRP for 400 GB capacity is $229.99 USD. Apple Retail Stores will feature My Passport Studio drives with the new FireWire 800 interface this holiday season.

Ultra-fast and Mac computer-ready, the My Passport Studio portable drive includes the following features:

High-performance FireWire 800 interface, plus FireWire 400 and USB 2.0 interfaces for maximum flexibility;
Turbo-powered with high-speed turbo drivers for maximum performance (Mac computer only);
Illuminated capacity gauge lets users see at a glance how much space is available on the drive;
Compatible with Apple's Time Machine application so users can back up with Apple's Time Machine, or their favorite back up software;
Industry-leading 5-year limited warranty;
FireWire or USB powered so no separate power supply is needed(1); and,
Formatted HFS+, Journaled for use with Mac(2) computers can be easily reformatted for use with Windows PCs.