Western Digital hard drive lineup gains a 15TB behemoth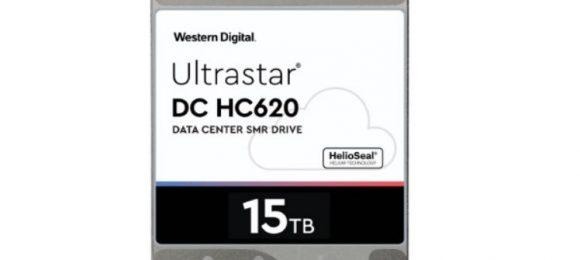 Storage is one of the great unifiers of the information age. Everyone needs more storage, whether they're an individual consumer or a massive company. For those in the latter group, Western Digital today announced a beefy new HDD that packs a whopping 15TB of storage.
Western Digital notes that its new 15TB Ultrastar DC HC620 HDD is the industry's highest capacity hard drive, and the company is aiming it at those who want to pack the most storage into as small a space as possible. The Ultrastar DC HC620 uses shingled magnetic recording to increase density, and while Western Digital notes that SMR requires some extra work on the part of the end user, that's worth it when it comes to overall cost per terabyte and total cost of ownership.
Total cost of ownership is a phrase we hear a few times in today's announcement, with Western Digital choosing to focus on how much physical space rolling with a rack full of these hard drives can save. "Setting a new bar for TCO, the Ultrastar 15TB host-managed SMR HDD is well positioned for hyperscale cloud and traditional data center workloads, including large video surveillance 'smart city' initiatives, storage for regulatory compliance and Big Data storage," Western Digital said in a press release.
As with most of Western Digital's high capacity drives, the Ultrastar DC HC620 uses the company's HelioSeal technology, which help improve overall capacity even further. All of this sounds pretty great, but one big question mark at the moment is how much this hard drive will cost. We can't imagine that a 15TB HDD made for enterprise customers who need a lot of storage space will be cheap, but at the moment, Western Digital hasn't revealed a price.
Release date is another unknown at this point, too. Western Digital says that it's currently shipping qualification samples to some of its enterprise customers and that the HDD will become widely available later this quarter, but that's as specific as the company got with today's announcement. Whenever it releases, we can likely expect this 15TB HDD to be out of reach of us average consumers.