Western Digital Black line gets 4TB drive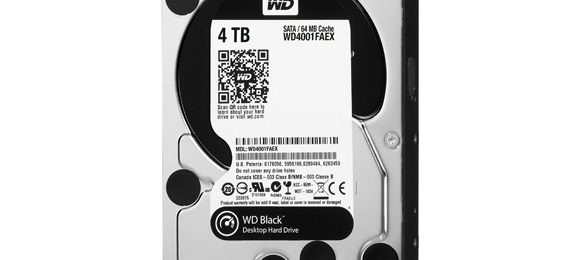 Western Digital has given its Black line of internal hard drives an upwards bump with the introduction of a 4TB drive. This gives WD customers access to a performance-based 4TB drive, whereas previous offerings have been aimed at enterprise customers. The drive is available now, and is priced at $339, which includes a 5-year warranty.
The new Black 4TB HDD is a 3.5-inch drive, clocking in at 7200rpms, with 64MB of cache and 6GB/s, as well as dual-processors and dual actuator tech. Other Black drives in the series are available in 500GB, 1TB, 1.5TB, and 2TB capacities, as well as the new high-capacity drive. Each one offers a SATA interface,
While the WD Black is a nice hard drive depending on your needs, nothing about it particularly stands out as unique. It is, perhaps, overshadowed by the more popular HDDs in WD's catalog, including the VelociRaptor, which reaches a highly-impressive 10,000 rpms. Also in the works is the recently-announced helium-filled drive, which is supposed to reduce friction while increasing capacity.
The Black line of hard drives are tested and recommended for PC computers, including high-performance systems; they are not recommended for RAID environments, however. The drives feature WD's various features, including Stable Trac, which reduces vibration in the motor shaft to improve tracking and performance. In addition, all the drives are put "through extensive Functional Integrity Testing (F.I.T) prior to any product launch. This testing ensures our products consistently meet the highest quality and reliability standards of the WD brand."
[via PC World]