We test out the Diamondback Haanjo adventure bicycle: Learning to love gravel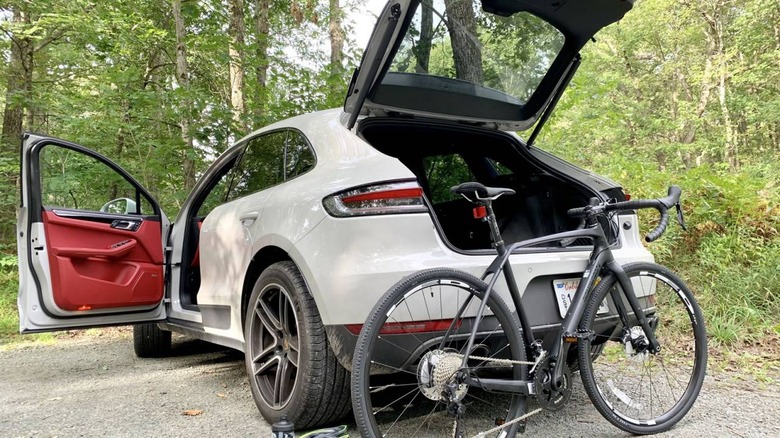 A roostertail of dust sprouts out behind me as I bomb down a gravel road, speeding down a steep hill in the woods as fast as I possibly can go. And it is fast. I'm blazing. My gaze strays to a tree at the apex of an upcoming curve and I briefly imagine the crunch of bone and carbon if I were run into that oak at this velocity.
But then I'm past and pedaling up the next rolling hill. The bike underneath me is poised and stable despite the loose surface underneath its stubby tires. It eats up this terrain. It loves this terrain.
The bicycle is the Diamondback Haanjo 7C Carbon. An elegant span of unpainted carbon equipped with top-notch drive train components, the Haanjo is a bargain at a cost of $3,000. Comparable bikes in the all-carbon category often cost twice that. Washington State-based Diamondback describes the Haanjo as an "adventure and gravel" bike.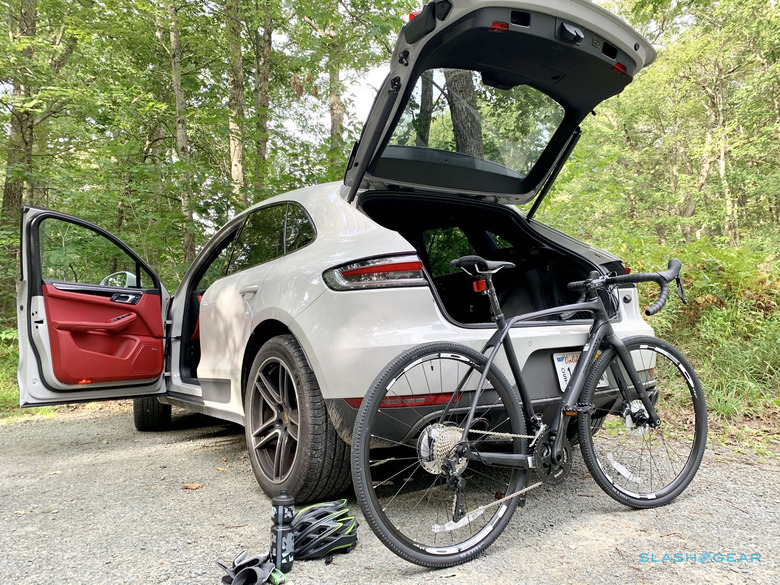 No other segment in the cycling world is growing as fast as gravel bikes. A gravel bike is a hybrid, borrowing the overall look of a road bike with dropped handles and thin body tubes. But they share some commonalities with a mountain bike, with wider, semi-knobby tires that allow for increased clearances on rough terrain. (Note that most gravel bikes do not have suspensions equipped with telescoping forks or shocks like a true a mountain bike.)
The result is a bike that can be ridden on asphalt with far less difficulty than a mountain bike, but that won't suffer flat tires or a jarring ride on a dirt road. They make for excellent commuting bikes in a place like New York City, where the roads are often pitted and potholed.
But the Haanjo is perhaps best on a road covered in actual gravel — the kind of road I'd usually avoid for its jarring chatter. A road dotted with small, sharp rocks is often the kind of road that you use to get to a fun single-track trail. But not this time. I'm having a blast.
The Old Greentown Road runs through Pennsylvania's Pocono mountains. I've never been on it before because I've never had a bike that would handle it. It would be boring on a mountain bike, and undoable on a road bike. But, traveling at a very fast clip on the Haanjo, it's an ideal way to explore.
Off to the side, I see a fire road; closed to traffic, but open to hikers, bikes, hikers, and snowmobiles. I slipstream past the barricade and sweep into thicker forest. This is more like a single-track trail, with hard-packed dirt. The bike is great here, too.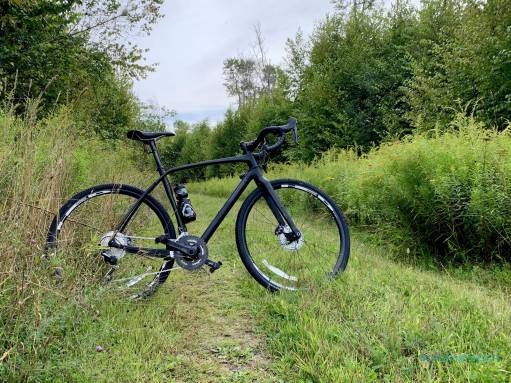 My test bike has a 53-centimeter frame and weighs just under 20 pounds — you can easily lift it with three fingers. The 7C uses the highly reliable and intuitive Shimano Ultegra drivetrain components, and a Praxis crank. Rather than a quick-release skewer attaching the front tire to the axle, the Haanjo utilizes a thru-axle setup, which is both stronger and ensures direct and precise steering.
The drop bars are relaxed and slightly flared — a setup that went easier on my shoulders over longer rides. And the Shimano hydraulic disc brakes give amazing confidence on those really steep hills. You'll still get some wobble and slide on the steepest grades, but it's manageable and somewhat akin to driving a rally car. Embrace the slide!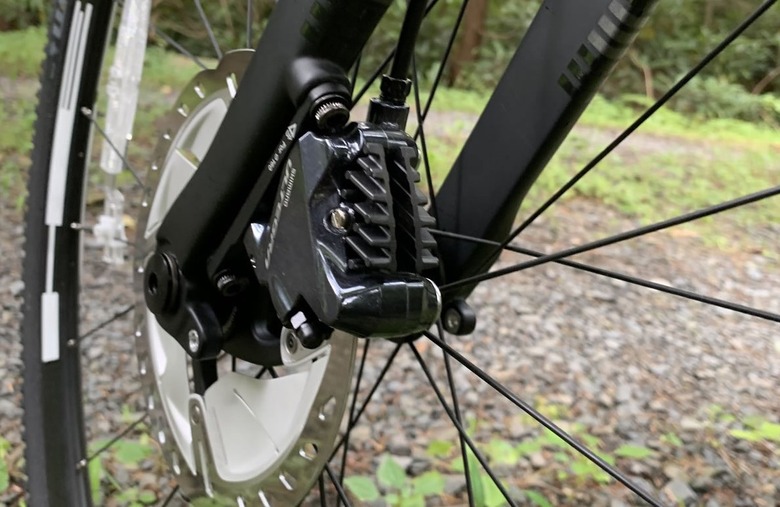 Hours later I'm back at my car, a whole new area of woods opened to me. So on another day, a good friend and I head to the Delaware River and the 31-mile gravel trail that parallels the west side of the river.
The McDade Recreational Trail doesn't allow cars, and it's a gravel biker's dream. Some of it is flat, other parts have rolling hills, and there are a few very steep sections. The river flows past silently.
My buddy is riding an old-school mountain bike, made of steel. Feeling pity, I offer to trade bikes for a while. He mounts up, gives it a go, and then comes to a hard stop using the fabulous brakes. "Wow, this is amazingly light. And agile." And then he starts pedaling hard, making a roostertail of his own, and leaving me far, far behind.
It turns out that I'm not the only one to newly fall in love with gravel. Or the Haanjo 7C.