WD Nomad case keeps your My Passport external drive safe on the road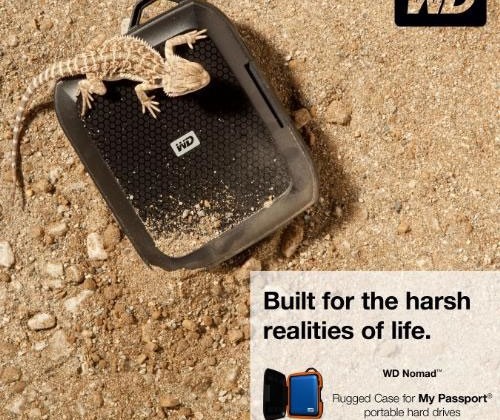 Western Digital has announced a new case that turns your WD My Passport external HDD into a rugged device that can survive a rough life of bumps, spills, and drops on the road. If you take your external storage device with you to archive your data on the road or to store photos you take keeping the drive safe is a big deal. One spill on an unprotected drive and you might lose all of your data, which could mean lost memories and lost business.
WD has unveiled a new case that is made specifically to fit the MyPassport HDD called the WD Nomad. The case has a polycarbonate exterior and a shock absorbing cushioned inner layer. It meets MIL-STD-810G for ruggedness and has a heavy-duty latch and silicone liner to seal out dirt and moisture. WD is aiming the case at anyone that is on the road a lot, but photographers that move photos from a computer to a MyPassport drive on the road will be particularly interested in the offering.
Another cool feature of the case is that it has an opening for the USB cable to go through so the user can leave the HDD inside the case when they want to use it. I always spill on my hardware when it's plugged into the computer so that is a good feature in my book. The Nomad also has a molded exterior ring that the user can attach a carabiner, cable, or strap to. The case is available right now for $29.95.
[via WD]