WD My Book Pro RAID storage hides up to 12TB capacity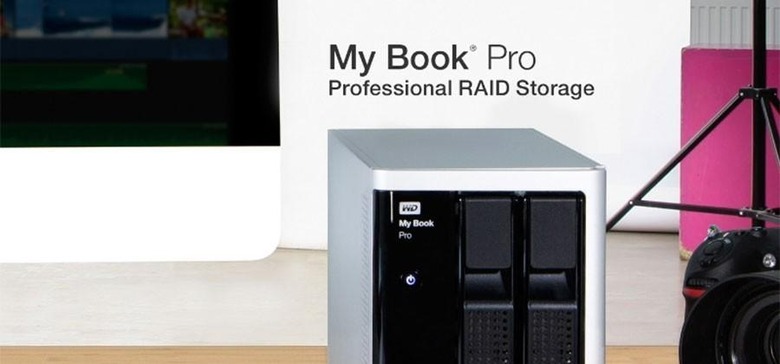 WD has unveiled a new external storage device for computer users that aims to be incredibly fast and offer lots of storage capacity. The device is called the MyBook Pro and it is a RAID storage array that uses Intel Thunderbolt 2 technology to deliver data transfer rates of 435 MB/s making it the fastest external solution that WD has offered to date.
The My Book Pro is offered in four storage capacities including 6TB, 8TB, 10TB, and 12TB. Each of the capacities is reached with a pair of 7200RPM internal hard drives. The hardware RAID controller is hot swappable.
The storage solution has dual 20Gb/s Thunderbolt 2 ports and USB 3.0 compatibility with dual front USB ports. The dual Thunderbolt ports allow for daisy chaining of devices. Those ports offer enough power to charge and sync tablets, smartphones, and cameras.
RAID settings include RAID 0 (default setting), RAID 1, and JBOD and the user can choose between the settings that are supported by the MacBook Pro. My Book Pro comes with a 3-year warranty and is available now. The 6TB unit sells for $599, 8TB sells for $749, 10TB sells for $899, and the 12TB sells for $999.
SOURCE: MyBook Pro