Wayv Adventurer is a portable, rugged microwave for lazy camping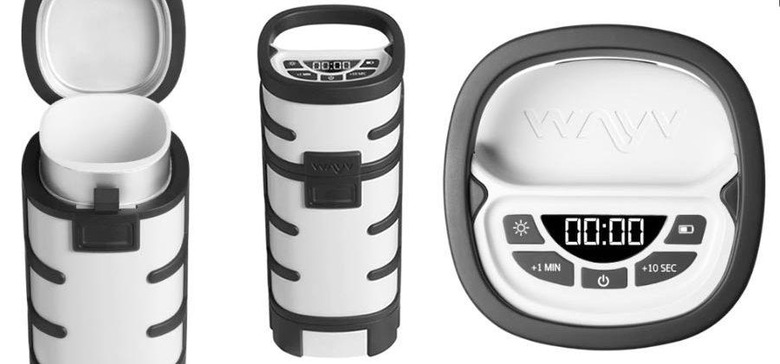 Forget toiling away with kindling, fire starters, mini cooking dishes, and hot coals — a microwave is more convenient, and soon it will be possible to carry one with you wherever you go. Called the Wayv Adventurer, this portable gadget is small and rugged, and it heats foods and liquids the same way as an ordinary microwave. Because the unit is powered by swappable batteries, anyone can stuff it in a backpack and use it on the go.
This device is said to be the first ever portable solid-state food heater that warms up whatever is inside using radio frequencies. Though it seems to detract from the 'natural' aspect of getting out in the wild, it would make an excellent camping companion, eliminating the need to tote around a bunch of different items in place of one. As well, the microwave could be used to safely heat food and drink during times of the year when fires are banned (drought seasons), or in places where open flames are not allowed.
The device is a bit smaller than your average with-cup thermos, measuring in at 305mm tall, 128mm wide, and 1.2kgs in weight. The internal capacity tops out at 500ml, while power is delivered through interchangeable quick charging "power packs." According to the company behind Adventurer, you can charge these using a car charger or solar, for example, if you're camping. Each charge will get you about half an hour of usage.
The portable microwave has a lift-up lid and an internal container where food and beverages go. The top of the device has a small display to see a timer, as well as a power button, battery level button, a couple buttons for adding time to the device.
Wayv has produced its device alongside NXP Semiconductors, which recently showed off the product at a tech event. Development was funded through a crowdsource campaign in 2014, and the company is now accepting preorders through its website. A single Adventurer costs $199 USD, and is expected to be available next year.
SOURCE: Gizmag