Water-cooled ready OCZ Flex EX memory defines performance, but could promote corrosion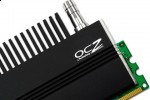 Most Waterblocks contain copper and the present of an aluminum compound in the system would promote galvanic corrosion that's a no no for water-cooling 101. Apparently OCZ likes the challenge, they have released a new Flex FX memory series featuring the integrated liquid injection system designed with 100% aluminum block.
Designed to fulfill the needs of most demanding PC enthusiast and gamer, the high density Flex FX memory can deliver extremely high frequencies of up to DDR3-2000 and DDR2-1200 speed. The water cooling ready "flexible" all-aluminum design allows option to run the modules water-cooled, or passively via the array of aluminum fins, and the concurrent use of both to advance heat dissipation.
The new Flex EX series will be available in 4GB (2x2GB) dual channel kit with the following configuration :
OCZ PC2-9600 Flex EX 4GB (2x2GB) 1200MHz CL 6-6-6-18 @ 2.2V
OCZ PC2-6400 Flex EX 4GB (2X2GB) 800MHz CL 4-4-3-15 @ 2.1V
OCZ PC3-12800 Flex EX 4GB (2x2GB) 1600MHz CL 7-6-6-24 @ 1.9V
OCZ PC3-16600 Flex EX 4GB (2x2GB) 2000MHz CL 8-8-8-30 @ 2.0V