Was an HTC smartwatch just leaked via video?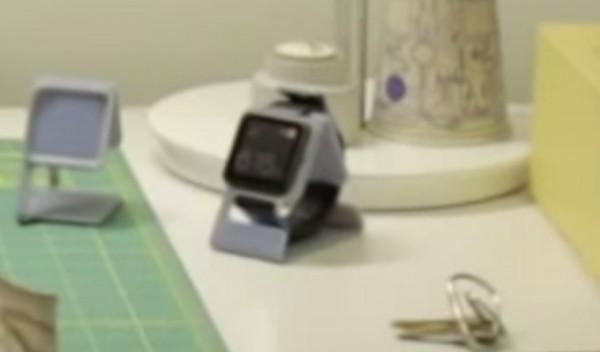 HTC has made no bones about their wearable ambitions; they've just not given us much to go on. A new video, highlighting something else entirely, may have given us our first look at their incoming smartwatch. A bit of crafty product placement may showcase just where HTC is going with their wearable, expected this fall.
Android Wear, which is the expected platform for an HTC wearable, supports two screen shapes: square, and round. If this video is any indication, HTC is going the square route, leaving Motorola as the only one brave enough to get circular. In the video, we so both a physical model as well as a CAD render on a workstation.
The video also shows a dock for the watch, which could also be a retail display. There doesn't seem to be a method for charging it via the dock, nor does the dock look as though it plugs in. We don't get a look at any software, and there is little to glean from this outside of the screen shape.
The HTC smartwatch here may be an early prototype, but it's clear the company is readying something big (small?) for us. We like the rounded back of the device, but we hope it won't be quite as massive as the Moto 360. We're not ready to say this is the new HTC smartwatch, but it seems rather purposeful to leave it in a "behind the scenes" design video. If it were an accident, HTC should remember to watch their background next time.
Via: HTC Source