Wanna see my GPS-7V1XX-IXX?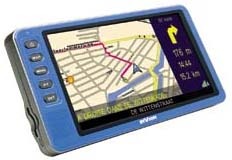 Not sure why they couldnt have given it a 2 digit model number, but the Wanna see my GPS-7v1 XX-IXX is a navigation tool that was recently launched by Invion. It has a beautiful 7 inch touchscreen, along with audio/video playback capabilities, and a 400MHZ processor.
Also included is an SD slot for a 2 gigs-worth of maps and songs/videos. The antenna goes by the Sirf III standard, and a connection can be made with the built-in Bluetooth. A TMC/RDS service can also be used, which zips traffic information for your area onto the GPS system.
Also included is a car and home AC charger, a headset to listen to commands, a bracket used for car mounting, along with a carrying bag and a USB cable. The price tag is marked at 400 Euros, and can be bought from Invion.
GPS-7V1XX-IXX [Via: Invion]