Walmart's Vudu service now lets you convert discs into digital movies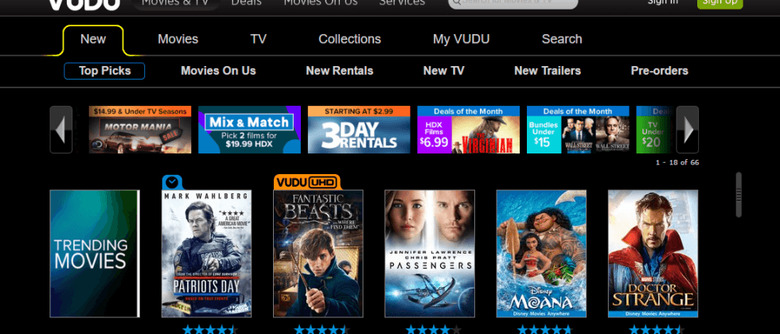 If you have a large movie library on disc and you happen to use Walmart's streaming service, Vudu, then you might like this bit of news. Walmart has announced that it will now allow Vudu users to convert their disc-based movies to digital ones, regardless of if they're DVDs or Blu-Rays. The service goes live today and it supports around 8,000 movies.
Those movies cover a fairly wide array of studios, including Paramount, Lionsgate, Sony Pictures, and Universal. Converting your movies to digital is a pretty straightforward process, though Walmart notes that they have to take place at the same address you have listed on your Vudu account.
In order to begin converting your collection, you'll need to open the Vudu app and scan the barcode on your case in the Disc-to-Digital menu. Once the barcode has been scanned, you'll be asked to choose either SD or HDX for your conversion. Standard DVDs can be converted to either SD or HDX, while Blu-Rays can unsurprisingly only be converted to HDX.
It seems like a handy little feature to be sure, but it isn't being offered for free. Converting DVDs to SD digital movies or Blu-Rays to HDX will cost you $2 each, while converting DVDs to HDX movies will set you back $5. That isn't too bad as far as fees go, but if you've got a sizable movie collection, you might want to consider only converting a few of your favorites instead of the whole thing.
For those not in the know, Vudu is service that offers video-on-demand streaming but also provides digital copies of Walmart Blu-Rays and DVDs purchased in-store. The ability to convert your existing collection will be going live later today, with Walmart set to flip the Switch at 12PM Eastern. What do you think of Walmart's fees for conversion? Head down to the comments section and let us know!