Walmart to sell HD-A2 HD DVD player for $98 tomorrow only!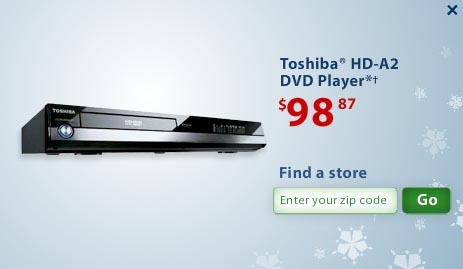 Remember the other day that I told you Circuit City was selling an HD DVD player for under $200? Well in comparison to Walmart, that deal sucks. Walmart is doing something a little different with their holiday promotions this year, they've set up a "secret" website that will inform you of deals that will available on various days. One such deal for tomorrow is a sub-$100 HD DVD player.
Yes, it sounds too good to be true, but it's not. You'll have to fight the crowds at 8am tomorrow if you want one though. If you were wondering, this is the same Toshiba HD-A2 Walmart was rumored to be carrying soon.
I've been reluctant to pick sides in the format wars, but I think I've finally seen the light. With prices hitting below the $100 mark for players, I can't see how Blu-ray will be able to keep up.