Wal-Mart and Dell partnered up for on-call tech support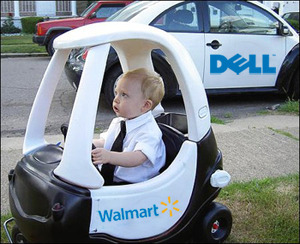 I'm pretty sure most of you know Geek Squad, the on-call computer technician that behave as they are some sort of government secret agent. Wal-Mart wants to have its own man in white too – partnering up with Dell, Wal-Mart will be testing the Solution Station in 15 Dallas stores.
The new service unit will be doing work such as PC repairs, setting up home theatre, wireless networking, and electronics that were sold by Wal-Mart. We will have to see how this odd partnership between Wal-Mart and Dell works out.
[via giz]