Wacom MobileStudio Pro Windows 10 tablets have 3D cameras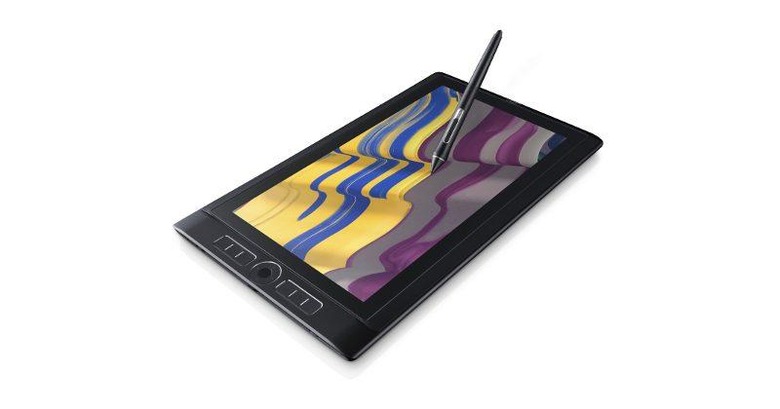 The launch of the iPad Pro and the Apple Pencil ignited a debate in the graphics community: has Wacom lost its luster? Trying to make up for lost time, fame, and probably customers, Wacom has launched a new series of Windows 10 tablets that put artists and creatives at the very center. Like Wacom's other Windows tablets, the new MobileStudio Pro line combines display, computing power, and stylus in one large slab. But unlike those older models, some of the newer tablets are not only "3D Ready", some even have 3D cameras.
Tablets and cameras don't always mix well, with the exception of a very few like Apple's iPad Pros and Google's earlier Project Tango tablets. The Wacom MobileStudio Pro tablets follow the footsteps of the latter. In fact, those select few tablets sport Intel's RealSense R200 camera for sensing depth in addition to color. That might be a strange proposition, especially for larger tablets like Wacom's, but the company is trying to appeal to 3D modelers, CAD users, architects, and the like.
Admittedly, the 3D camera will be more of a niche use case. Of course, Wacom's tablets are more than that. They are, in truth, about the stylus and the digitizer. The MobileStudio Pros, in particular, boast of being Wacom's first tablets to bear the new Pro Pen 2 technology, that promises an astounding 8,192 levels of pressure and "virtually no lag" and "no parallax" either, two of the most criticized points in graphics tablets of this nature.
Unlike an iPad Pro, and more like a Surface Pro, the MobileStudio Pro tablets are, of course, "regular" Windows 10 tablets, which more demanding artists require because of the software they use. No settling for mobile counterparts. There are six models in all, varying slightly in specs, with 13.3-inch and 15.6-inch screens, 64 to 512 GB storage, Intel Core i5 or i7 processors, and NVIDIA Quadro graphics.
Unlike Microsoft's Surface Pro tablets, however, the Wacom MobileStudio Pro isn't a general-purpose tablet line, but one that is aimed squarely as creative professionals. The prices definitely confirm that, with costs starting at $1,499 at the lowest all the way up to $2,999. The tablets are scheduled to launch in November.