Wacom launches Intuos5 graphics tablet with multi-touch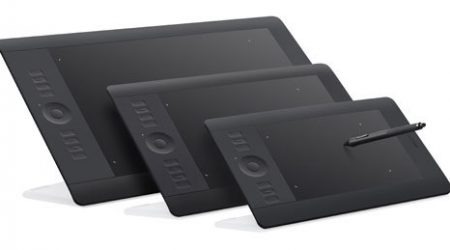 Wacom has announced the Intuos5, its next-gen graphics tablet that offers a precise pressure- and tilt-sensitive stylus with the addition of multi-touch gestures support. Wireless connectivity is also available for the Intuos5 as an option. The graphics tablet is aimed at design professionals, photographers, and artists who want to take their digital creations to the next level.
The Intuos5 features a slim-profile in a professional matte black and soft-touch finish that's both modern and durable. It has ergonomics in mind with an ambidextrous design that makes it easily adjustable for right- or left-hand users. At the core of Wacom's graphics tablet is its Intuos5 Grip Pen, which registers 2,048 levels of pen pressure and up to 60 degrees of tilt. This precision and sensitivity makes it feel the same as working with traditional tools such as markers, pens, and brushes, giving users more creative effects when used with Adobe Photoshop, Illustrator, and other similar graphics software.
The addition of multi-touch gestures support helps to further streamline workflows by making it easy to zoom, scroll, pan, and rotate content, all directly on the tablet instead of switching back and forth from a mouse or other input device. The Intuos 5 can recognize standard Windows and Mac gestures as well as custom gestures created through Wacom's software.
There are also customizable ExpressKeys on the Intuos5 along with one Touch Ring and a four-function toggle that allow users to create custom shortcut keys for commonly used functions to reduce the need to go back to the keyboard, improving productivity. And with the purchase of a separate Wireless Accessory kit, which includes a rechargeable battery, RF module, and USB receiver, the Intuos5 can be converted to a wireless tablet for even more comfort and convenience.
Wacom's Intuos 5 graphics tablets are available now and come in three sizes with the Small priced at $229.95, Medium at $349.95, and the Large at $469.95. A cheaper pen-only version of the Small tablet will also be offered, but pricing on that has not been confirmed yet.