Wacom Intuos Creative Stylus Hands-On: Aiming For Your iPad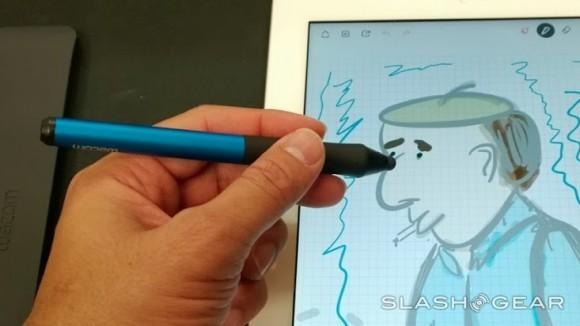 First introduced in the middle of last month, Wacom has shown off its Intuos Creative Stylus for the iPad, a pen offering that aims to make drawing on the Apple slate feel more authentic and variable. The stylus is being offered in black and a blue/black design and is supported by a variety of known art apps, among them being Wacom's own Bamboo Paper.
We tested the Intuos Creative Stylus out today, and when paired with an iPad it does indeed offer the pressure sensitivity Wacom claims and works well for drawing. The part about being paired with the slate is key, however — without being paired, you won't get that much-lauded functionality. Connectivity comes via Bluetooth 4.0.
There are 2,048 levels of pressure, and so artists will find it able to meet a variety of drawing demands, with the stylus being supported by — among other apps — Wacom's Bamboo Paper, Autodesk's SketchBook Pro, ArtRage, Procreate, Adobe Ideas, and more. The stylus comes with a couple of replacement nibs, and runs on a single AAAA battery, allowing for about 150 hours of usage.
The Creative Stylus is made for the third and fourth generation iPads, as well as the iPad mini, and has a brushed aluminum barrel. Overall, those looking for a drawing experience on the iPad that is beyond what an ordinary stylus can offer will find the Intuos Creative Stylus from Wacom a solid option.