Vuzix announces new Wrap 310 widescreen video glasses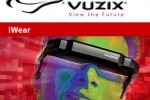 I have seen and used several different styles of video glasses over the years. Some of them have been better than others, but the big issue for me is that the glasses look really stupid when you are wearing them. Vuzix has announced a new set of glasses that will launch soon called the Wrap 310 Widescreen.
The company is offering the glasses for consumer, defense, and low vision markets. The new glasses promise to look like normal sunglasses and include two high-resolution video displays in the eyes. The two screens are able to project a 55-inch image size and the device has removable noise blocking earphones.
The 310 glasses are also designed for upgradability with an expansion port to allow compatibility with different accessories. Other features include an onscreen user interface, independent focus adjustment for those who wear contacts, and compatibility with major 3D formats.