VR Desktop offers macOS users a virtual workspace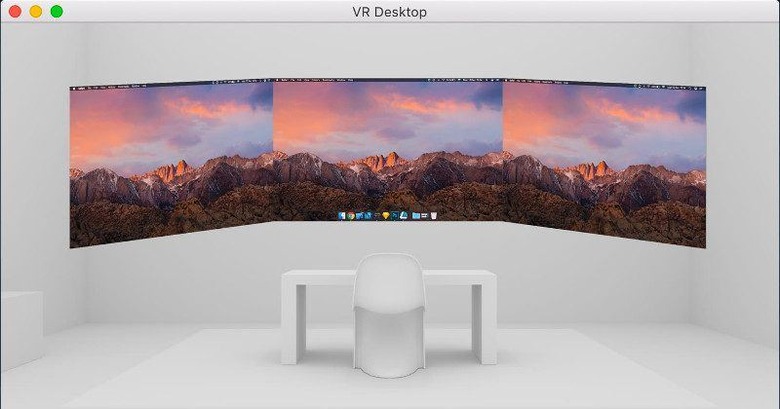 Mac users might be proud of their platform being the go-to for much creative work, but there is one party it hasn't been officially invited to yet. The rush of virtual and augmented reality technologies have so far catered only to the Windows crowd, leaving macOS patiently waiting for better days. Some, however, have taken it up themselves to do the heavy lifting that VR makers don't seem to be interested in. Like this VR Desktop from Cindori which uses an Oculus Rift DK2 to give Mac users a foretaste of what a VR office would look and feel like.
It's not that Macs are not capable of driving VR experiences. Or maybe they are, depending on who you ask. If you ask Oculus, the built-in graphics cards of Macs aren't strong enough compared to the PCs, where you can swap out pieces for higher powered ones. That said, one can probably still squeeze out a modicum of performance enough to drive a multi-monitor macOS workspace.
Cindori's VR Desktop doesn't deliver a full VR experience like you'd see on Windows PCs. It is, instead, customized for one use case. It lets macOS users have a multi-monitor setup without the monitors. Virtual screens are created in virtual reality where users can adjust the distance of the screens as they please. They can then use their Macs normally, though they can definitely use VR Desktop for entertainment purposes, like watching videos in a ghost town of a cinema.

"Normally" here is debatable. You are, of course, wearing a headset where you won't be able to see anything else other than the virtual screen in front of you. Given that the goal is to be able to do regular work in VR, like typing, it might be a bit more difficult since you can't see the keyboard. Even the best touch typist might find it frustrating.
VR Desktop isn't available for commercial VR headsets yet. It currently only supports the Development Kit 2 version of the Oculus Rift. Cindori is working on supporting the HTC Vive this year while the actual final version of the Oculus Rift is still to be announced. In theory, an AR desktop would probably make a more convincing argument, but good luck bringing the Microsoft HoloLens to the Mac.
SOURCE: Cindori
VIA: 9to5Mac