Volvo Inflatable Child Seat Concept is lighter than most at 10lbs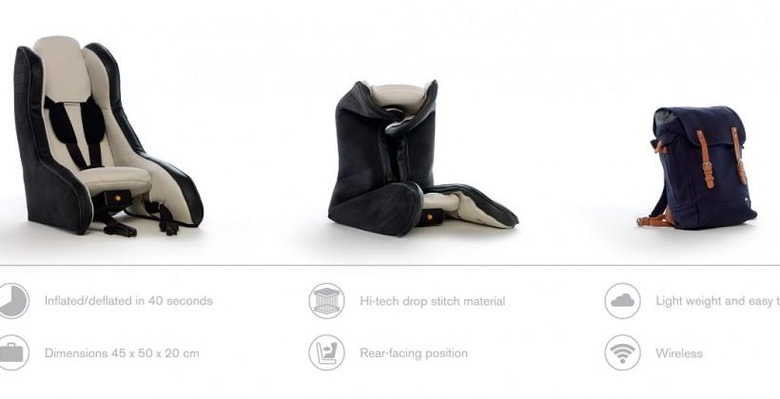 One of the biggest problems with conventional child car seat is its weight. You can expect them to weigh close to the 25-pound range and besides being bulky; they are highly inefficient as travel luggage. Parents of toddlers can heave a sigh of relief as an inflatable and lighter version is being worked upon by Volvo. Called the Inflatable Child Seat Concept, this rear-facing child car seat is a little over 10 pounds and fits into your travel bag with ease.
One of the most vulnerable and delicate areas in a growing child is their neck. To give it proper support and attention, carmakers recommend a rear facing car seat for tots up to 3 years old. This new concept conforms to the safety norm and is especially helpful during the event of an accident. The Design Manager at the Volvo Monitoring and Concept Center in Los Angeles, Lawrence Abele, says that besides safety being the number one priority in its design, this new car seat address a very common problem faced by most parents: bulk and weight.
Said to be as safe as the next available car seat in the market, this new concept inflates in less than 40 seconds and is half the conventional car seat weight. In its fully deflated state, the seat is shown fitting into a weekend bag, with room enough to accommodate other child-essentials. Getting into the details he explains, that the children will find it more comfortable to sit in this new chair since the air cushioning feels softer than the plastic molded child seats.
Although Lawrence would have us all sit rear facing in the car, it's not a practical option. As the video demonstrates, it takes the flick of a button to inflate and deflate the chair, so in essence it's a no-fuss practical option. Lawrence drew on his own personal experience of traveling with his small children, especially when they had to go aboard. The pain of carrying a car seat through airports and taxis inspired him to work on this inflatable design.
SOURCE: CarSeatBlog