Volkswagen's 2017 enthusiast fleet is ready for summer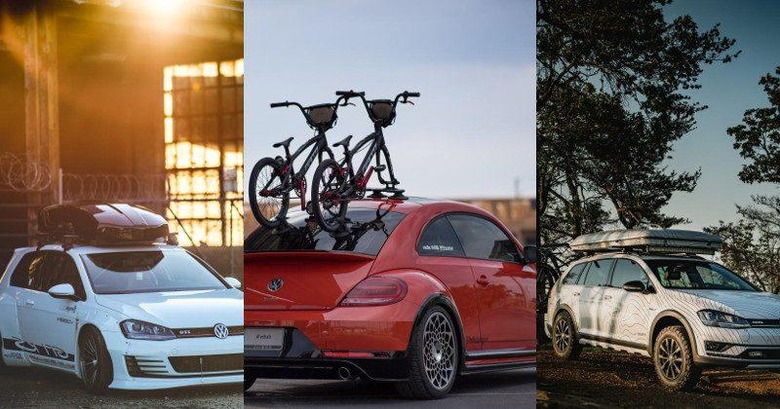 Summer is fast approaching, and with it comes the heat, beaches, and road trips. It is a time when car lovers all around the country gear up for the ultimate getaway. Volkswagen fans are not that different, even if their tastes do diverge from fan to fan. Taking those varying tastes and interests in mind, Volkswagen's 2017 enthusiast show fleet channels the spirit of fun and diversity at the SOWO: The European Experience.
The Beetle Post Concept takes its name both from the Beetle R as well as from Alise Post, a BMX champion who has added two custom GW bikes to the car for good measure. Fledgling company Radi8's 19-inch "Mr. Drama Queen" wheels give the Beetle Post a rather unique personality, while the vintage Volkswagen lettering on the door and its Habanero Orange coating give it a rather old-school spirit.
If the Beetle Post was too flashy, then the Jetta GLI Nardo Concept might be more to your taste. Putting the "stealth" in stealth performance, the Nardo Concept uses Audi's favorite Nardo Grey on the outside, making the lines stand out without calling too much attention to itself. From May 19 to 21 during the SOWO show, the GLI will sport different wheels from HRE, startin with the FF01 Flow Form.
The Golf GTI RS Concept channels and blends different influences, thanks to Vossen Wheels Creative Director Sam Dobbins' vision. The Rocket Bunny widebody takes its cues from Japan, for example, while the seats takes inspiration from race cars. Of course, the wheels come from Vossen itself.
If the GTI channeled different cultures, the Golf R Heritage Concept channels the past. Triple stripes that run across the length of the car pays homage to the German flag. This is balanced by white stripes that run across the lower rocker. Like the Golf GTI RS, the R Heritage runs on Vossen wheels with a VWS-1 matte gunmetal finish and anodized silver polish.
The Golf Alltrack Country Concept probably exudes summer the best. Inspired by the Europe-only Golf Country Special Edition, this Alltrack is also made for off-road driving. On top of its 4Motion AWD, the concept adds a 2-inch suspension lift and All-Terrain wheels from BFGoodrich. The Golf Alltrack Country has almost everything and anything you'll need for your roadtrip, from foglights in the lower bumper, a hitch-mounted bike rack, roof mounted tent system with a solar panel, and even a media computer and entertainment system in the trunk.
These five Volkswagen enthusiast vehicles for 2017 will be on show from May 19 to 21 at the SOWO: The European Experience that will be taking place at Hutchinson Island, Savannah, Georgia.