VoIP Roundup: mobile SIP providers on trial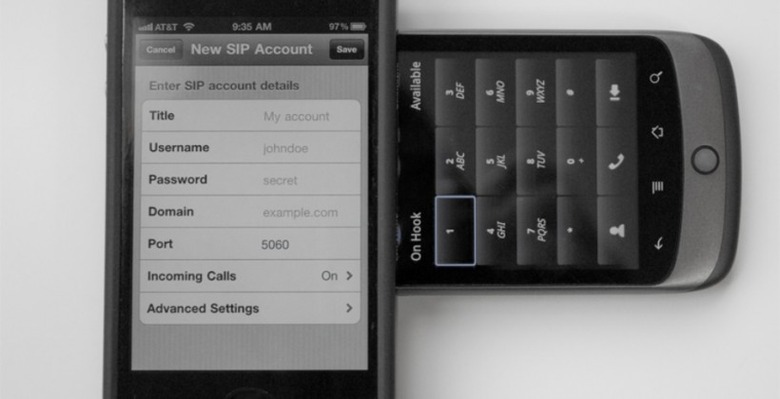 The VoIP landscape has changed over the years, with many providers evolving into more than just the desk-phone VoIP we used to know. VoIP companies continue to add ways to entice consumers and small businesses. In this article, I will be sharing my experience with several BYOD (Bring Your Own Device) VoIP providers. Most BYOD VoIP providers use SIP (Session Initiation Protocol) to allow softphones or other devices to connect; I've been using Acrobits SoftPhone on iPhone, SipDroid on Android phones, and a Linksys PAP2 VoIP adapter. As for my connection, I was using FIOS with 25Mbps download and 25Mbps upload when connected to WiFi or LAN; while mobile, I'm connected to AT&T 3G and T-Mobile 3G. For all my tests, I used the G.711 (uLaw) codec on WiFi /LAN connections and G.729 on 3G. Read on for my real-world test results.
My quest started with ViaTalk, and after hearing so many people vouch for it across multiple discussion forums, I was excited to see what all the buzz was about. The sign up process was simple, but you won't be getting instant access to the service until your order has been processed, something which takes 24-48 hours. ViaTalk charges $15.75 / month for unlimited service in the US and provides 60 minutes international calling to certain countries. I received my credentials within 24 hours and was able to configure my Softphone and my VoIP adapter (not used simultaneously). The ViaTalk control panel is well designed and thought out; you can control many aspects of the line, including call details and privacy (for both inbound and outbound calls). Unfortunately I didn't have much luck with ViaTalk's quality; during initial calling tests I was unable to hear the other party's audio, despite them being able to hear me quite clearly – this happened both on the softphone and the VoIP adapter. Several hours later, I gave it another try and it works; however, the audio was choppy and full of static. Test calls over 3G connections weren't any better, and sometimes incoming calls failed to come through. I wouldn't recommend ViaTalk based on my personal experience.
Vonage is not a BYOD provider, but they do have a softphone package that allows you to use your own device; the downside is that you have to be a Vonage subscriber. For $9.99 you can get 500 minutes of outbound calls (inbound is free) on Vonage. I was not able to set it up on my PAP2 VoIP adapter as I was told Vonage does not support it, even with my softphone package. Over WiFi, the audio clarity is close to landline quality, and still decent on 3G with echo suppression enabled. For those who do not use many outgoing minutes and who are also Vonage subscribers, I would only recommend the Vonage softphone package if you are mobile most of the time. However, Vonage is well known for increasing their subscription fees unexpectedly, and I tend to stay away from providers like that.
Several years ago, I was a BroadVoice subscriber and had a horrible experience with them (mainly with their tech support). I bravely signed up with BroadVoice again this around for the sake of this article. I picked the BYOD-lite plan that cost only $5.99 a month ($11.42 after tax and other fees); the package offers 100 minutes of outbound calls (inbound are free). I liked how BroadVoice tells everything upfront on what fees they are charging, putting it in a very visible place on the signup page. I was only able to register one device/line, so I set it up using my mobile softphone. Voice call quality was decent, however there was noticeable echo over WiFi connections. Calls over 3G, however, were not good at all, with the conversation being choppy for both sides. I called support to cancel my account and, unlike my previous experience with them, the support call was answered quickly, by someone who is a native English speaker, and who quickly understood my complaints and acted accordingly. Still, I would recommend BroadVoice only if you do not have multiple devices to use, and intend on connecting via LAN or WiFi only.
Toktumi Line2 is a different kind of BYOD VoIP provider, eschewing SIP and opting instead to develop its own softphone. The downside of this is that you can't use a generic SIP-compliant device like the PAP2 VoIP adapter or your softphone app of choice. However, there are more upsides than downsides with Line2; the app for iPhone is well polished, with features including visual voicemail, iPhone contact integration and, best of all, it runs on the background on iOS4. The app is also available for BlackBerry handsets, while Peter Sisson, CEO of Toktumi told me that their Android client is coming. The sign-up process is fairly straightforward but requires a US mobile number. Pricing, meanwhile, is very attractive at $14.95 per month for unlimited calls without all the extra fees, plus 30 days free trial. Line2 to Line2 calls use a wideband codec with HD-clarity audio (you can actually hear a pin drop on WiFi calls); over 3G, I was able to hear the audio clearly and so could the other party. Live support (web chat) is excellent with quick responses and cancellation is as simple as clicking the "cancel" link in the account options. I highly recommend Toktumi Line2 if you are in the market for mobile VoIP, especially for iPhone, Blackberry and, soon, Android device users.
Last, but not least, my quest brought me to onSIP, a business-oriented BYOD SIP provider. While onSip's target audience is small businesses, consumers can also utilize their service with their "a la carte" plan that doesn't require you to sign up for auto attendants, extensions, voicemail, etc. I was able to buy just a phone number and voicemail that cost me $7 in a one-time setup fee (for the phone number) and $4/month ($2 for the phone service and $2 for voicemail). Inbound and outbound calls using PSTN will cost $0.029/minute; this might leave question marks to those people who love "unlimited" plans, but if you really think about it, you might save more money in the end if you don't use a lot of minutes and simply want a secondary phone line. On our test calls, audio on both ends proved crisp and clear no matter whether over WiFI or 3G. I found onSIP to be very reliable and I enjoyed using their service. If you don't use your VoIP line too much, onSip is a very good choice; for businesses, I highly recommend it.
Not all VoIP providers are suitable for everyone, but from time to time, there are one or two that would stand out from the crowd whether by virtue of their technology, the functionality they offer, or their pricing. To me, reliability is the top priority and having a VoIP provider that keeps innovating is also important as technology around us evolves. This post is meant more to share my experience than it is a review of each VoIP provider; still, Toktumi Line2 stands out for their mobile experience, while onSip's flexibility is notable. Still, there are plenty more providers out there competing for our business, and I'd be interested to hear your experiences with other VoIP services. Let us know who you've found – and who you've learned to avoid – in the comments!