Vogel Mount and Cover System for iPad debuts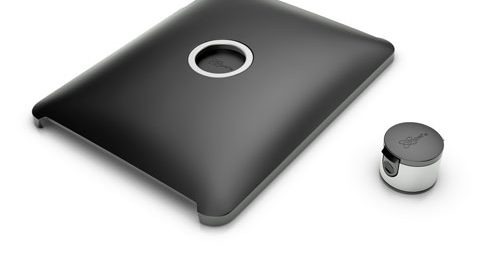 Many people need and want to mount their iPad in all sorts of places. The iPad can be a good in-car entertainment system for kids and it can be a good clock or home automation controller as well when wall mounted. The trick is finding a mount that will securely hold the iPad without having to worry that the thing will fall and break.
Vogel has unveiled a new mounting system called the Mount & Cover System for iPad and it has everything you need for mounting the iPad in the car, on a wall, and on a table. The kit includes the cover that protects the back of the iPad with a soft coating that is easy to grip. It also reverses to protect the screen of the iPad during travel.
The kit also has a patent-pending aluminum connector that allows the iPad with the cover installed to be connected to all sorts of other mounts like the CarMount, TableMount, and WallMount. The WallMount is a hidden button that is screwed onto the wall and rotates 360-degrees. The car mount connects the car headrest supports. The TableStand holds the iPad on a table. The starter kit for the system is 79.99 Euro and has the WallMount and BaseCover. The BaseCover alone is 59.99 Euro, and the CarMount and TableStand are not yet priced. The items will be sold in the US with US pricing not set at this time.