Vodafone USB WWAN modem - "Super 3G" wireless broadband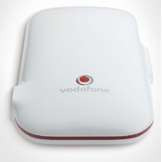 This new WWAN modem from Vodafone is cranking out speeds of up to 7.2Mbps over in the UK. Even better yet, it doesn't use any weird card technology like PCMCIA or ExpressCard, nope, just plain old USB.
Vodafone is even offering up some pretty flexible prices for the device and it's service, you can choose to pay £170, £99, or £49 for the device itself. Of course each of those prices has different contract terms, with the highest price, you only pay for daily usage if/when you use it, no contract, no monthly fee, but its eight and a half pounds a day to do so.
The other two require either a 12 or 18 month contract at prices as low as twenty-five pounds a month. There are claims though that the maximum speed of 7.2Mbps is only attainable in major airports and central London, obviously the signal, and thus the speed, attenuates after that, so depending on how close you are to one of those sources you might be able to get close to the advertised speeds where you work or live.
Vodafone starts flogging a 7.2Mbps USB modem for wireless internet roaming [via techdigest]