Vodafone Netherlands outs Galaxy S6, Galaxy S Edge names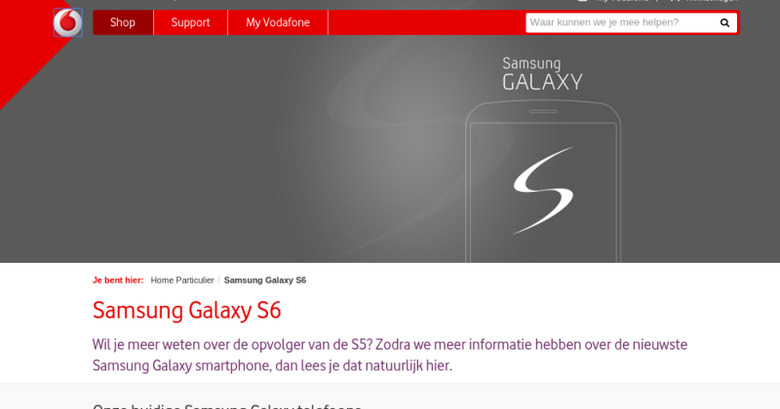 We had quite a few rumors about HTC's MWC 2015 contender the past few days. Now it's time to turn our gaze back to Samsung's tag team. While there is very little doubt as to what the flagship will be named, which will be the Galaxy S6, we're now seeing some indication that its curved edge variant might be named a wee bit differently. Vodafone Netherlands has, accidentally or otherwise, put up a placeholder page for the Galaxy S6 and in the page's source code also lies the name of the Galaxy S Edge.
To some extent, the naming convention does make sense. The very first "Edge" smartphone was called the Galaxy Note Edge and not the Galaxy Note 4 Edge, despite the hardware being mostly similar with the Galaxy Note 4. It stands to reason that the next one, which will based on the Galaxy S6 supposedly, will be simply named Galaxy S Edge. That said, there will probably be some naming problems if Samsung decides to follow the line up later this year for the Galaxy Note 5 and next year with the Galaxy S7.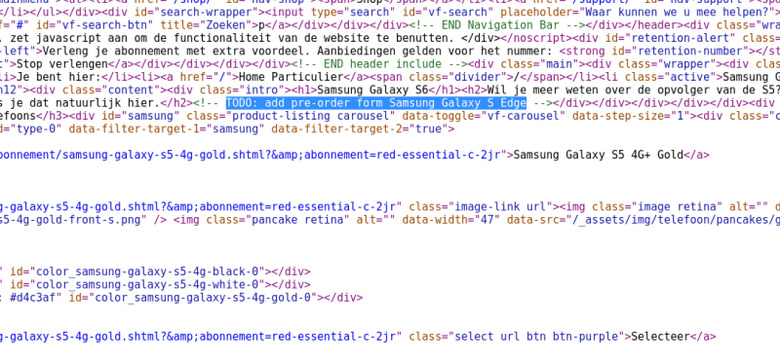 Aside from that little new detail, Vodafone doesn't really spill other beans for us to chew on. Still missing are exact hardware details and availability. We do have pretty much a solid picture of what the Galaxy S6 itself will be, which is of course the best of the best that the mobile world has to offer when it comes to hardware components. There are a few interesting rumors, though, like a different kind of fingerprint sensor, one that behaves more like Apple's stationary implementation rather than Samsung's previous swipe-based sensor. The Galaxy S6 is also expected to be metal clad like the Galaxy Alpha, though the jury is still out on that one. The Galaxy S Note, on the other hand, will sport mostly the same specs but its highlight is expected to be the curved screens on both sides of the device.
One of the most recent debates revolves around the processor to be used for the Galaxy S6, with rumors saying that Samsung will only be launching an Exynos-powered model due to heat issues with the Snapdragon 810. Qualcomm is said to have addressed those problems with a new batch of chips, though the question now is whether those will arrive in time for the Galaxy S6.
SOURCE: Galaxy Club, Vodafone Netherlands
VIA: Androidworld.it