Vodafone announces Smart Tab II at an impressive price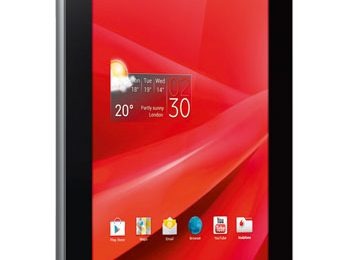 Vodafone has announced that it has a new tablet powered by Lenovo available for consumers to buy. The tablet is the 7-inch Vodafone Smart Tab II. The tablet is powered by the Android operating system and has integrated 3G and Wi-Fi technology.
Vodafone customers that don't mind a contract can get the tablet for £29 on 24 month contract for plans costing at least £20 monthly. That price plan includes 2 GB of mobile Internet data allotment and 1 GB of data allotment on Wi-Fi networks. Vodafone will also offer the tablet on a contract free plan.
For people not wanting the contract they can pay £149 for pay-as-you-go mobile Internet service. The tablet runs Android 4.0 and can access any app on the Google Play store. It has a 1 GHz processor and is 11.5 mm thick.
The tablet has 4 GB of internal storage and can be expanded up to 32 GB using a microSD card slot. Vodafone is also selling an optional foldable hardcover for £25 to protect the tablet when you're on the go. The resolution of the seven-inch display is 1024 x 600 and the tablet has a two-megapixel rear camera and a 0.3 megapixel front camera.