Vizio's new E-Series LED TVs launch with 70-inch model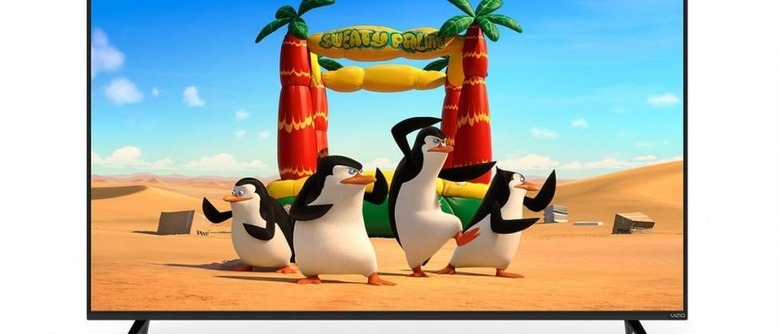 Vizio has launched its latest E-Series budget-centric televisions, and included among them is a giant 70-inch model, bringing consumers a large option for a (relatively speaking) small price tag. There are a total of 11 new televisions, all of them being LED varieties that will soon be available through the most common retailers, as well as Vizio's own website. As you'd expect from the entry-level E-Series, the starting price of the new models is low — $179 USD — though the maker promises the models don't compromise on quality.
The new lineup features a 24-inch Razer model with LED lighting from the edges, and is priced at $179 USD. The next highest up model is a 28-inch model ($199 USD), 32-inch ($259 USD), 40-inch ($349 USD), 43-inch ($389 USD), 48-inch ($479 USD), 50-inch ($529 USD), 55-inch ($629 USD), 60-inch ($799 USD), 65-inch ($999 USD), and 70-inch ($1,399 USD).
The televisions feature up to 16 active LED zone which will adjust dynamically based on backlighting needs for the picture playing at any given moment. This will result in darker blacks and better proportions between the light and dark areas of the pictures, at least according to Vizio.
As is becoming common on modern televisions, most of these eleven models will be offering a 120Hz refresh rate, as well as Clear Action 240 tech. This will cut down on the motion blur that takes place when watching fast-paced shows or sports, for example. There's integrated WiFi to top the models off, giving access to services like Netflix and Hulu Plus without a set-top box.
SOURCE: Twice