Vizio Unveils Premium 42 And 54-Inch 5.1 Home Theater Sound Bars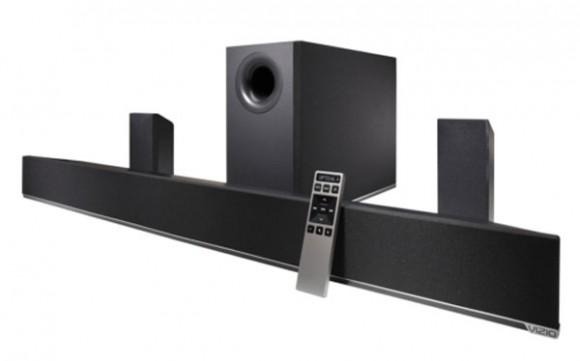 Vizio has proven to be a very popular company in the HDTV market. Vizio pretty much came out of nowhere a few years ago and quickly took over the market thinks to its TVs that were priced well and offered high-end features. TVs aren't all Vizio has in its product line, the company also has a range of sound bars and other hardware.
At CES 2013 Vizio has unveiled two new premium home theater sound bars promising 5.1 surround sound. The bars include being Premium 42-inch and 54-inch sound bars. The 42-inch sound bar has a wireless sub and surround speakers and carries model number S4251w-B4.
The sound bar ships with a Display Remote. Vizio also has a new 54-inch home theater sound bar aimed TVs 60-inches and larger. Vizio says that both of these new sound bars have 102 dB of crystal-clear audio with less than 1% total harmonic distortion. The sound bars also have integrated Bluetooth.
The integrated Bluetooth connectivity allows users to stream music from tablets or smartphones to the sound bar. The Display Remote has an integrated LCD screen allowing the user control sound bar settings from across the room. It's not clear if the 42-inch home theater surround bar actually has wireless surround speakers are not. The S4251w-B4 will sell for $329.99 with pricing and additional information on the 54-inch model coming later this year.