Vizio unveils holiday lineup of HDTVs and sound bars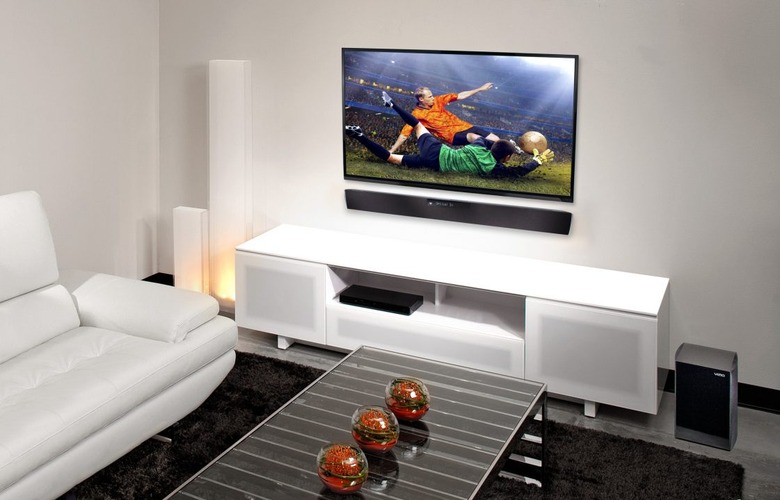 Just in time for the holiday shopping season, Vizio has announced its new lineup of HDTVs and audio equipment. More specifically, the company has officially announced the LED-lit2 E-Series line of HDTVs and four new sound bars. Included in the lineup is the recently-released E-Series 60-inch class Razor LED Smart TV.
The lineup also includes the company's flagship E-Series 70-inch class Razor LED Smart TV, and new 2.0 and 2.1 E-Series and M-Series sound bars. Vizio has pretty much loaded up their holiday lineup, which include HDTVs from basic 24-inch units, all the way up to 70-inch Smart TVs in order to cater to every consumer.
Vizio's Smart TVs (which come in flavors of 70", 60", 50", 42", and 32") feature built-in WiFi, as well as a handful of VIZIO-exclusive apps and instant access to streaming content from services like Netflix, Amazon Instant Video, VUDU, Hulu Plus, YouTube, and Pandora, as well as social media content such as Facebook and Twitter.
Vizio's sound bars start at $99 for the 2.0 E-Series model, and go all the way up to $229 for the 2.1 M-Series unit. Vizio's basic HDTVs start just $199 for the 24-inch model, while $399 will get you the company's 39-inch LED model. Vizio Smart TVs start at $299 for the 32-inch variant, and they go all the way up to $1,999 for the 70-inch Razor Smart TV.