Vizio takes jab at curved TVs with spoof ad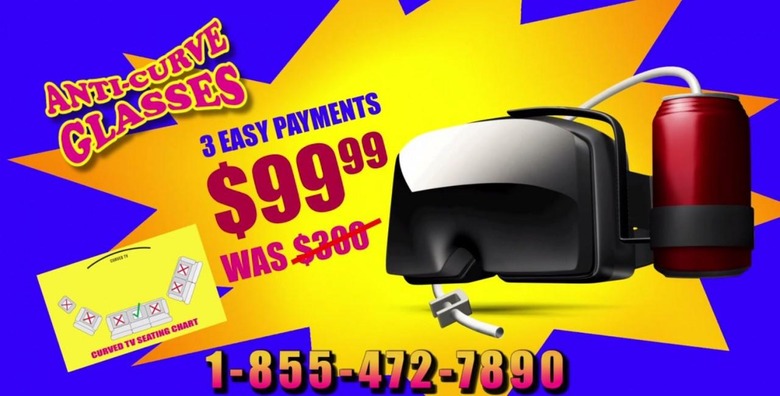 Curved televisions and monitors are the latest trend, but Vizio, at least, isn't happy with them. Simultaneously bashing the technology and dashing any hopes that it would be rolling out its own version, the company has created a cheesy spoof advertisement hawking a pair of "anti-curve" glasses, which look like a VR headset and include a bonus drink holder for those especially lazy days. Of course, the glasses aren't real, but to make up for the time you spent watching, Vizio has nestled a real perk amidst the humor.
"Your new curved TV causing you frustration?" Thus kicks off the commercial, which promises to turn a curved TV "into a beautiful flat screen". There's also a tongue-in-cheek seating guide that crosses out all seats in a room except the one directly in front of a curved display.
The advertisement wraps up with a more serious note, where Vizio presents it 4K offerings with the note: "Don't fall for the curve. Beautifully flat Ultra HD". As for that perk? Those who call the number shown in the spoof will be offered a discount code and directions to head on over to Vizio's "Fix Curve" page.
The maker's P-Series Ultra HD televisions are given center stage on the page. This all follows Vizio's recent update announcement for that series lineup, which brings quality improvements, as well as a trio of new content apps offering 4k-resolution content.