VIZIO SmartCast E-Series TVs bring HDR, 4K, Chromecast, and XXL sizes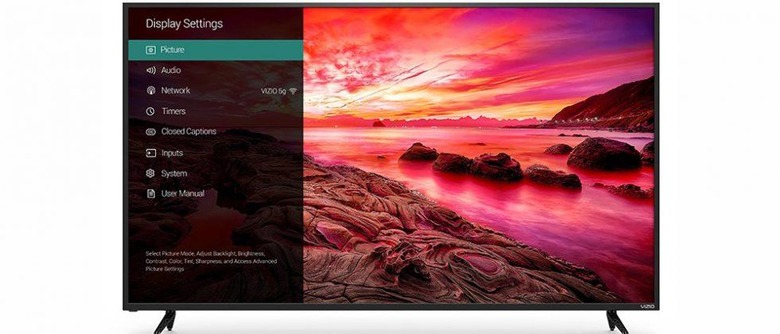 Vizio has taken the wraps off its new 2017 line of SmartCast E-Series televisions. This product line contains several models in sizes ranging from 32-inches to a massive 80-inches, and also packs in some notable features like Ultra HD 4K resolution, a built-in Chromecast, and HDR, depending on model. The new lineup has a little bit of something for everyone, including for every budget, with prices ranging from $209.99 to $3,399.99 USD.
Says Vizio, all of these new TVs feature built-in Chromecast, which makes it easy for people to access their content sans a separate set-top-box. The models that are 55-inches in size or greater also feature HDR10 content support. The company says it uses a Full-Array LED backlight that has up to 16 Active LED Zones for dynamic adjustments.
This new E-Series lineup includes a new remote, according to the company, that Vizio says allows users to setup the display for the first time without using a tablet or phone. The remote can likewise be used in the future to control aspects of the TV, while users can also cast content from their mobile devices using an app's Cast button.
View the pricing below:
VIZIO SmartCast™ E-Series™ 32" Full-Array LED Smart TV: $209.99

VIZIO SmartCast™ E-Series™ 43" Ultra HD Home Theater Display: $399.99

VIZIO SmartCast™ E-Series™ 50" Ultra HD Home Theater Display: $469.99

VIZIO SmartCast™ E-Series™ 55" Ultra HD HDR Home Theater Display: $549.99

VIZIO SmartCast™ E-Series™ 60" Ultra HD HDR Home Theater Display: $749.99

VIZIO SmartCast™ E-Series™ 65" Ultra HD HDR Home Theater Display: $899.99

VIZIO SmartCast™ E-Series™ 70" Ultra HD HDR Home Theater Display: $1,299.99

VIZIO SmartCast™ E-Series™ 75" Ultra HD HDR Home Theater Display: $1,999.99

VIZIO SmartCast™ E-Series™ 80" Ultra HD HDR Home Theater Display: $3,399.99
SOURCE: Vizio