Vizio 2017 D-Series Smart TV Collection includes 4K models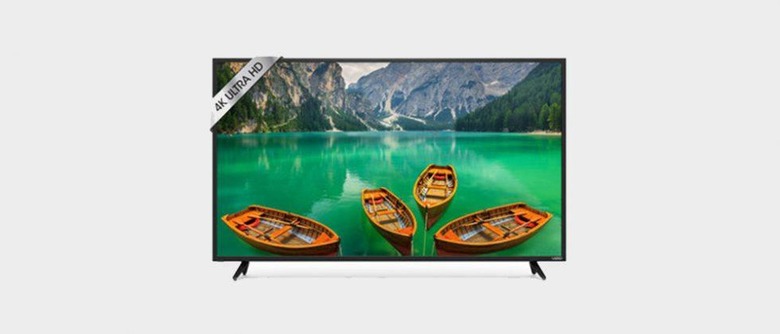 Television maker Vizio has taken the wraps off its new 2017 D-Series Smart TV Collection, a product lineup the includes multiple Ultra HD models. These televisions are targeted at 'value-minded' buyers, according to Vizio, which says its models offer resolutions at HD, Full HD, and 4K levels, as well as the expected functionality you'd find on any smart TV, including the maker's own Internet Apps Plus.
The new 2017 D-Series is comprised of a dozen television models, all of them featuring an LED backlight. Sizes range from the smallest at 24-inches to the largest at 65-inches. A total of four models are offered with a 4K UHD resolution: the 65-inch, one of the two 55-inch models, one of the 50-inch models, and and one of the 43-inch models. All the models feature full-array LED except for the smallest.
Users get access to a bunch of television apps via Vizio's Internet Apps Plus; the options include things like Xumo, iHeartRadio, and Netflix, which are available via an on-screen dock. Those who stream 4K content on the UHD models will do so via the included 'V8 octa-core processor' and 802.11ac dual-band WiFi. There's also Clear Action 180 with a 120Hz refresh rate on the D-Series television.
Vizio says its models feature up to 12 Active LED Zones (the full-array models, that is) for dynamic lighting that results in deep blacks and bright whites. The 24-inch model, meanwhile, is edge-lit rather than featuring these active zones. The full list of models and pricing is below; availability starts today on Vizio's website and soon through retailers like Walmart.
VIZIO D-Series™ 24" LED Smart TV

(D24h-E1)

MSRP $139.99

VIZIO D-Series™ 32" Full-Array LED Smart TV

(D32f-E1)

MSRP $199.99

VIZIO D-Series™ 39" Full-Array LED Smart TV

(D39f-E1)

MSRP $299.99

VIZIO D-Series™ 40" Full-Array LED Smart TV

(D40-E1)

MSRP $319.99

VIZIO D-Series™ 43" Full-Array LED Smart TV

(D43f-E1)

MSRP $349.99

VIZIO D-Series™ 43" Ultra HD Full-Array LED Smart TV

(D43-E2)

MSRP $419.99

VIZIO D-Series™ 48" Full-Array LED Smart TV

(D48f-E0)

MSRP $399.99

VIZIO D-Series™ 50" Full-Array LED Smart TV

(D50f-E1)

MSRP $419.99

VIZIO D-Series™ 50" Ultra HD Full-Array LED Smart TV

(D50-E1)

MSRP $499.99

VIZIO D-Series™ 55" Full-Array LED Smart TV

(D55f-E0)

MSRP $479.99

VIZIO D-Series™ 55" Ultra HD Full-Array LED Smart TV

(D55-E0)

MSRP $569.99

VIZIO D-Series™ 65" Ultra HD Full-Array LED Smart TV

(D65-E0)

MSRP $899.99
SOURCE: PRNewswire