Vizio 11.6-inch Windows 8 Tablet PC hands-on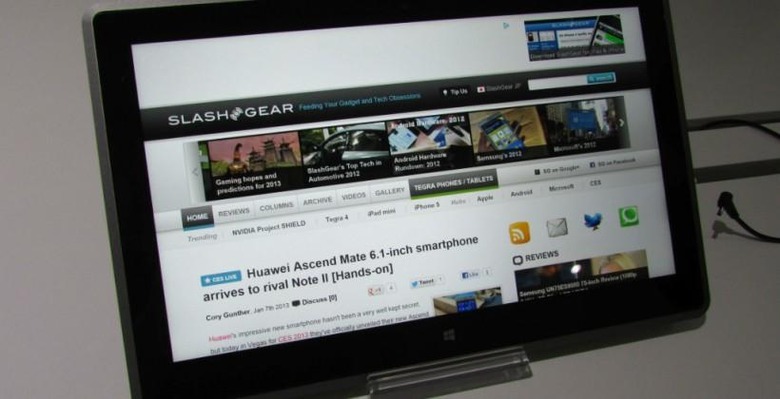 Vizio had a lot of cool things to show off at CES 2013, but one of the most exciting is its new 11.6-inch Windows 8 tablet. The tablet doesn't have a name yet, but the specifications speak for themselves. First off (and perhaps most importantly to some) is the fact that this tablet is running Windows 8 rather than Windows RT, which is great news for those who want the full Windows functionality on a slate.
Another feature worth getting excited about: 1080p resolution. Despite the fact that the screen is only 11.6-inches, the tablet is still displaying at 1920x1080. That smaller screen size naturally means that the pixel density is great, which in turns means that consumers can look forward to particularly sharp visuals. Videos, especially the clip from The Lorax we saw, looked absolutely wonderful.
Powered by a dual-core AMD Z-60 APU, AMD Radeon HD 6250 integrated graphics, and 2GB of RAM, users will have quite the speedy little tablet on their hands. There were a few dropped frames when swiping through apps, zooming, and playing HD video, but overall it was a pretty smooth experience, which is impressive for a tablet running the full version of Windows 8 at 1080p resolution. The 64GB SSD this bad boy ships with should do its part to keep things moving nice and fast, which is just icing on the cake.
The tablet itself is surprisingly thin and light – Vizio states that the tablet is 0.4" thick and just 1.8 pounds. I was expecting a heavier tablet when I picked this up from the stand, but was pleasantly surprised when I realized how light it is. More importantly, it feels good in the hand and looks really good. We're looking forward to seeing more from Vizio's new Windows 8 tablet as we move closer to its release date (no specifics on that just yet), but for now, it definitely seems like the company is on the right track. Check out our CES portal for even more from the show!