Visa Token service enable car-based commerce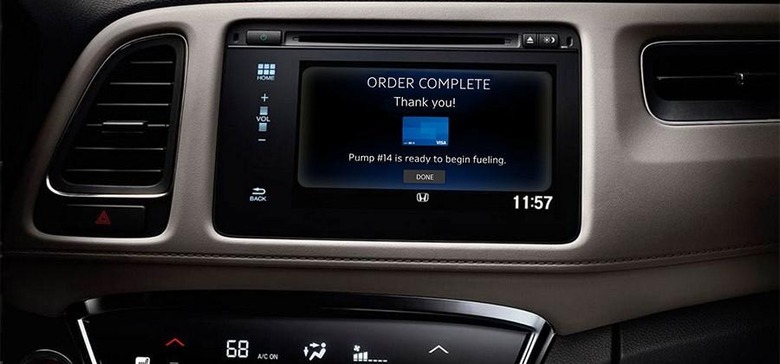 At MWC, credit card company Visa announced it was making its Visa Token Service available to automakers to pave the way for secure car-based commerce. To go along with enabling car-based commerce Visa is also rolling out a range of digital payment solutions with standards for Ma href="https://www.slashgear.com/tags/bluetooth/">Bluetooth and QR codes that help expand mobile payments for merchants and consumers.
Visa, Honda, and ParkWhiz have a demonstration for fuel and parking concept apps. The Honda app is integrated into the vehicle audio head unit and shows a way that drivers can pay at the pump before they even get out of the car. That could be a big benefit to people living in very cold climates and during inclement weather. Honda's fuel app concept detects when the car is low on fuel and navigates the driver to a nearby gas station.
The app knows exactly how much gas the car needs and can calculate the exact cost to fill up. The app also lets the driver pay for items in the convenience store at the same time. It's unclear just how the fulfillment of the in-store items would be handled. The parking app concept lets the driver park, push the button on the app to pay, and walk away. The app allows the driver to pay only for the time used and avoids over or underpaying parking fees.
"The notion of transforming a car into a platform for payments is not as far off as some may think, and we have made a great deal of progress since first introducing the idea one year ago," said Jim McCarthy, executive vice president of innovation and strategic partnerships, Visa Inc. "Working with Honda to test these prototypes gets us another step closer toward commercial reality, which we think provides exciting opportunities to everyone who plays a role in the payments and automotive ecosystems."
SOURCE: Visa