Virgin Mobile and Bell now unlocking iPhones for a hefty fee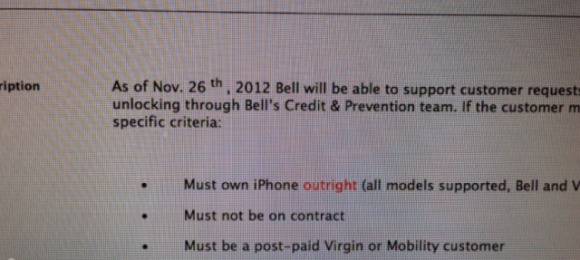 Bell and Virgin Mobile will unlock the iPhone for those willing to pay a fairly high fee and who meet a couple of stipulations. The offer is for Canadian iPhone users, and was confirmed via two leaked memos that found their way to the tech site Mobile Syrup. The program started today, but will be "launched in a phased approach."
In order to qualify for the current unlocking program, iPhone owners have to meet certain requirements that are revealed by the leaked memos. For starters, the iPhone must be owned outright, and cannot be on a contract plan. The iPhone owner must be a post-paid Bell or Virgin customer as well. Those who don't meet all three requirements are out of luck.
Information that the two companies planned to offer an iPhone unlocking service first appeared over at iPhone In Canada, but was lacking in details. With this leaked memo, we get a nice glimpse into the stipulations and fee, but also a notice that additional information will be available in the near future. Says the leaked memo, the eligibility guidelines will be expanded during the "next Phase in 2013."
Reads the Virgin Mobile leaked image: "Hey Peeps! Virgin Mobile is getting into the Holiday spirit by supporting our Members with unlocking their sweet iPhone! Starting Monday, November 26th, you'll play the role of Santa's little helper and assist in their request to unlock their iPhone." Customers can take advantage of this service via Bell's Credit and Prevention line, or via Virgin Care for Virgin Mobile customers.
[via Mobile Syrup]