Virgin America and YouTube strike a deal on in-flight content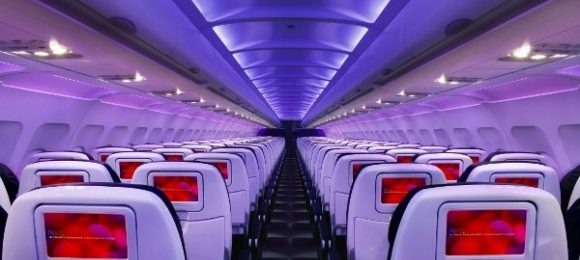 Virgin America and YouTube have struck a deal, penning the video sharing website's first distribution agreement with an airline. Beginning December 15, fliers will have access to five YouTube channels via Virgin's in-flight video entertainment system. The best part? The content is free on flights to Mexico and within the United States.
The free content on the channels will include: H+ The Digital Series from Warner Bros., Crash Course and Written by a Kid from Geek and Sundry, Blue from WIGS, and The Key of Awesome from Barely Political. In making this content available, YouTube is expanding its audience and presenting its content offerings to a larger demographic of users, who may not be aware of the content it currently offers.
This reflects on Virgin's stated goal of increasing the number of videos it offers four-fold, something it would do in conjunction with increasing the size of its 9-inch rear seat displays, which are available on a quarter of its US flights. This is in addition to the in-flight wireless Internet it offers on many of its flights.
Virgin already offers a variety of in-flight video content via other deals, bringing fliers content from Vevo, Funny or Die, Red Hour Digital, Stoodpid Monkey Productions, Barry Katz Entertainment, AEG, Vice, Rogue, Relativity Media, and more. Back in July, we reported that Virgin American was rated the top domestic airline for the fifth time straight.
[via Variety]