VIN Lookup makes it easier to search for recalled cars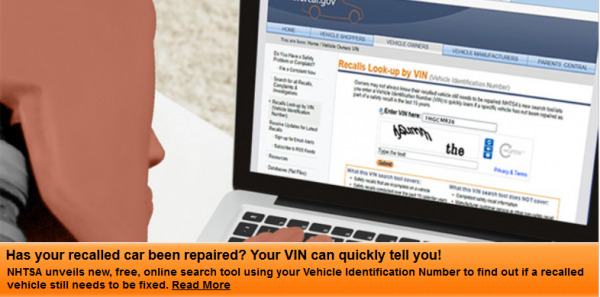 With millions of vehicles, motorcycles included, recalled in the US alone every year, owners sometimes have a hard time trying to keep updated. In order to give owners the weapon of knowledge, the National Highway Traffic Safety Administration (NHTSA) has introduced a new search tool on their SaferCar.gov website that makes checking such kind of information easier.
Manufacturers normally issue advisories and announcements, but searching for those on company websites isn't exactly a walk in the park. The NHTSA's website does already provide a way for owners of such vehicles to search for that information but search categories only include the usual make, model, and year. This yields results that are sometimes still too broad or too many to give an accurate answer. The new search tool instead uses the car's VIN or Vehicle Identification Number. This is a more precise search keyword and can be found on the driver's side dashboard or door.
The VIN lookup, while more accurate, isn't all encompassing, however. The site notes that it only covers incomplete safety recalls, recalls made over the past 15 calendar years, and those conducted by major light vehicle manufacturers, including motorcycle makers. As such, users won't find information about completed recalls or even recalls that aren't related to safety issues. Naturally, it only covers US vehicles so international cars and motorcycles aren't covered.
More importantly, the new NHTSA search tool relies on VIN information provided by those manufacturers as well. That is why the agency is now mandating that all light vehicle and motorcycle manufacturers should provide similar VIN-based lookup tools on their own websites. Their database should also be updated at least weekly. giving owners as well as the NHTSA itself a more accurate and up-to-date list of vehicles that have been recalled.