ViewSonic XG gaming monitors pack up to 4K resolution and 144Hz refresh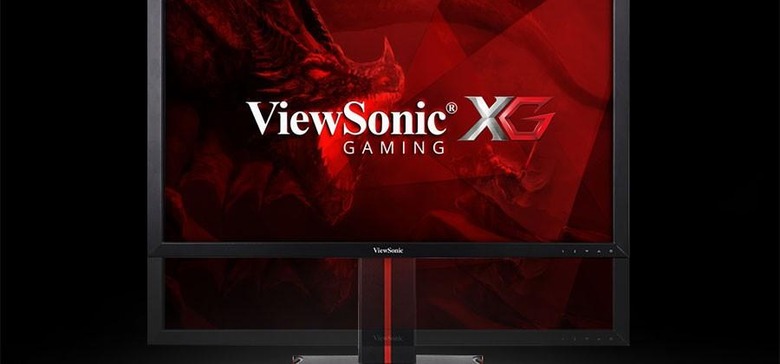 Ardent PC gamers know that now all hardware is the same and not all of it is up to the task of high-end gaming. Computer displays and other peripherals that work just fine for doing home work and surfing the web don't always work well for playing Fallout 4 with all the options turned on. ViewSonic has announced that it's new XG series of computer displays are now shipping and they all aim directly at gamers wanting the best performance and tech they can get.
The new XG Series are pro-level gaming monitors and the range includes the XG2401, XG2701, and the XG2700-4K. ViewSonic says that the displays are all available now at major e-tail websites. The first of the computer displays is the XG2401, the entry-level monitor for the XG series. The XG2401 is a TN type, a-Si TFT Active Matrix LCD with a viewable area of 20.9-inches horizontal and 17.8-inches vertical with a 23.6-inch diagonal screen size.
The optimum resolution for the screen is 1920 x 1080 and it has a brightness rating of 350 cd/m2 typical. The contrast ratio is 1000:1 typical and the dynamic contrast is 120M:1. Viewing angles are 170-degrees horizontal and 160-degrees vertical.
The screen supports 16.7M colors with a 1ms GTG response time. Backlighting is white LED and the screen surface has an anti-glare hard coating. Connectivity options include DisplayPort and dual HDMI. A pair of 2-watt speakers are inside the screen and the screen has a 3.5mm headphone port. The monitor stand tilts, swivels, rotates, and can height adjust 0-120mm for comfort. The XG2401 sells for $404.
The mid-range monitor is the XG2701 shipping now for $529. The XG2701 has a 27-inch diagonal image size, 23.5" horizontal and 13.2" vertical. This display also uses the same TN Type, a-Si TFT Active matrix LCD panel. Native resolution for the large screen is 1920 x 1080 and it has a brightness rating of 300cd/m2. Typical contrast ratio is 1000:1 with 120M:1 dynamic. The backlight is white LEDs and the screen surface is anti-glare coated. Connectivity options include DisplayPort, mini DisplayPort, and dual HDMI. Internal audio is via a pair of 3W speakers.
The final display is the high-end XG2700-4K selling for $913. This monitor has the same sort of panel as the other two with a 27-inch diagonal image size. Native resolution is 3840 x 2160 with 1000:1 native contrast and 20M:1 dynamic contrast. Brightness is 300 cd/m2 and connectivity includes DisplayPort and dual HDMI ports. No internal audio system is noted in the specs.
SOURCE: ViewSonic