Viewsonic ViewBook Pro VNB131 Review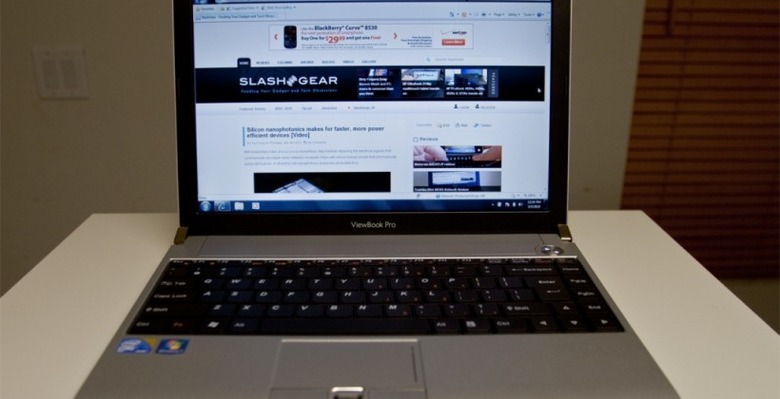 There's no mistaking Viewsonic's design inspiration. From the Apple-style packaging to the brushed-metal finish of the VNB131 itself, this is most definitely a MacBook wannabe. Still, if you're going to base your product on a rival, you could do far worse than choose Cupertino's finest, so the question has to be whether the Viewsonic VNB131 lives up to the standard. Check out the full SlashGear review after the cut.
Measuring in at 12.67 x 9.4 x 1.0 inches it's nicely portable, certainly. Ports include two USB 2.0, HDMI and VGA, 10/100 ethernet, audio in/out and a 7-in-1 memory card reader, and there's a removable, tray-loading DVD burner too. Pull that out and replace it with the secondary battery, and Viewsonic reckon you can have up to 12hrs runtime.
Under the hood there's an Intel Core 2 Duo ULV SU7300 processor with 2GB of DDR2 memory, a 2.5-inch 320GB hard-drive and Windows 7 Home Premium. You also get WiFi b/g/n and Bluetooth 2.0+EDR. The display, meanwhile, is a 13.3-inch LED-backlit 16:10 aspect panel running at 1,280 x 800 resolution, and it's one of the most impressive things about the Viewsonic. Not only are viewing angles great, but the screen is clear, vibrant and sharp, with no washing out even at reduced brightness levels.
While we'd rather have seen a more modern chicklet-style keyboard, the VNB131's 'board is sturdy and flex-free. There's obviously no room for a separate numeric keypad, but generally the layout is decent. In-between the trackpad keys there's a fingerprint scanner for security, which worked as well as expected.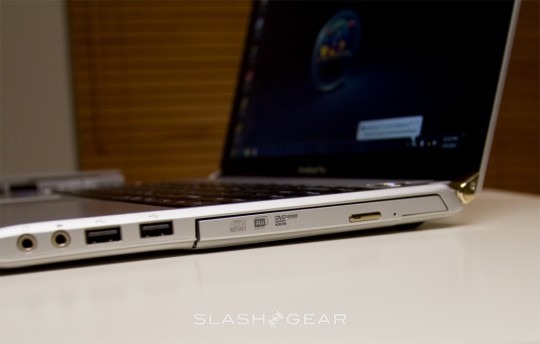 We loaded up Geekbench – a synthetic test of processor and memory performance – and the VNB131 scored surprisingly well. An overall score of 1558 was mainly held back by the DDR2 memory, with the processor steaming ahead in comparison. True, when you contrast that to even a 15 month old MacBook Air, the Viewsonic falls short, but in general use we had no problems multitasking with several browser tabs, email, IM and media open. Even during HD video playback we noticed no extremes of heat being generated.  This isn't the machine for gaming, but as an everyday ultraportable it's certainly capable.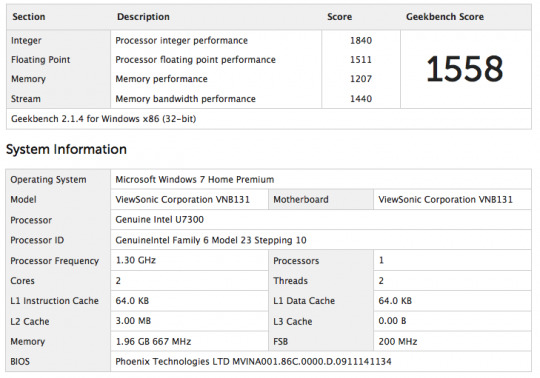 As for battery life, while Viewsonic's predictions were over-ambitious, the VNB131 still showed decent longevity. On the primary battery alone – which the company rates for up to 8hrs use – we managed 6.5hrs of regular use; adding the second battery – which they say boosts runtime by 4hrs, at the expense of the optical drive – took that total to 9.5hrs. That's obviously short of Viewsonic's 12hr estimate, but still enough for a solid day's work with some to spare, and the fact that they include the secondary pack as standard is admirable.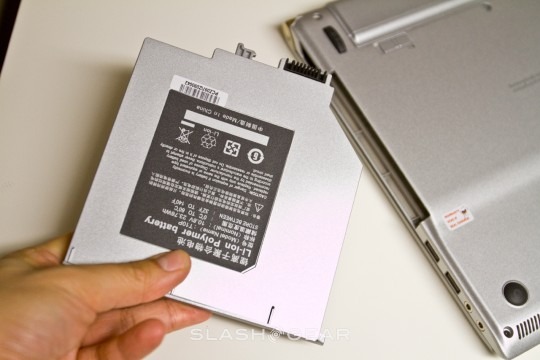 Having been initially dubious at Viewsonic's obvious inspiration with the VNB131, we've ended up surprisingly impressed by the notebook. Light and cool-running, the VNB131 nonetheless punches above its weight when it comes to performance, and the screen is particularly impressive. Throw in decent battery life and you're looking at a strong ultraportable contender when you consider the $949 price. Those watching them at work might accuse them of secretly wanting a MacBook Pro, but VNB131 owners will quietly know their Windows 7 machine has plenty of strengths of its own.