Viacom pulls Nickelodeon and 16 other channels from DirecTV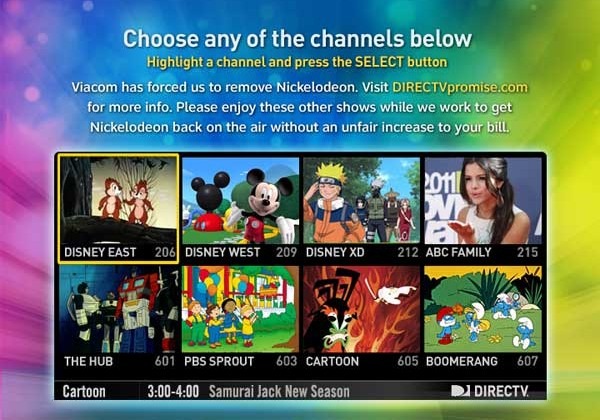 Viacom and DirecTV have been playing hardball in contract negotiations and that led to Viacom to pull 17 national networks from the DirecTV lineup last night. I'll be the first to admit that the bulk of those channels Viacom pulled are of no consequence to most of us. However, Viacom did pull one massively popular channel that will most certainly affect the majority of parents out there.
As of last night at midnight, DirecTV customers no longer have access to Nickelodeon. Being the father of a seven-year-old child I can tell you what a catastrophe it is for a little girl to no longer have access to new episodes of iCarly, SpongeBob, Victorious and every other insanely popular kid show Nickelodeon has. As a long-time customer DirecTV, I can say I'm not happy in the least, but whom do you blame in the situation like this?
DirecTV maintains that Viacom was pushing for an extra $1 billion in payments working out to a 30% increase over what it's currently being paid. I can only assume that's over some long contract period, but DirecTV isn't offering that information. Viacom wants more money because it thinks its networks are worth more than it's being paid. What DirecTV customers will see the day when they go to one of the kids channels that has been removed is a Kids' Mix channel that shows kids programs are airing on other networks. I hope they get this dispute cleared up. I suspect it would have a negligible amount to the monthly fee subscribers pay to increase what Viacom gets paid.
"We have been very willing to get a deal done, but Viacom is pushing DIRECTV customers to pay more than a 30 percent increase, which equates to an extra $1 billion, despite the fact that the ratings for many of their main networks have plummeted and much of Viacom's programming can be seen for free online," said Derek Chang, DIRECTV executive vice president of Content, Strategy and Development. "Viacom sent us a letter last night that outlined our obligations to remove the channels by midnight or face legal action just as they were falsely telling viewers DIRECTV was responsible. Let's be clear, Viacom took these channels away from DIRECTV viewers."

"We have absolutely no problem compensating Viacom fairly, but they have now knowingly put our customers in the unreasonable position of either accepting their extravagant financial demands or losing some of their favorite TV shows," said Chang. "We feel our customers should not have to pay more for these networks than the customers of any other TV provider. We reiterated this to Viacom today and have not heard back from them."

"We understand that Viacom's actions are inconveniencing our customers so we are doing everything we can to help them find alternative programming until this gets resolved," Chang added. "Customers will now see a variety of replacement channels available to them on one screen, in a Mix Channel format, when they tune to a Viacom channel. For instance, those going to the Nickelodeon channel slot will see alternative choices for children's programming such as The Disney Channel, ABC Family, Cartoon Network, PBS Sprout, The Hub and Boomerang. Customers can also see full-length Viacom episodes for free by going to www.directvpromise.com and clicking on the 'Other Ways to Watch' tab."