VIA unveils EPIA-P720 Pico-ITX mainboard supporting H.264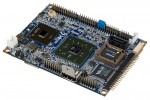 HD video is very much in demand for products that are small and have low prices. This is what makes the netbooks and nettop flooding the market so popular today. VIA has announced its latest pico-ITX board for very small form factor devices that can still support playback of full 1080p video over HDMI.
The board is called the EPIA-P720 Pico-ITX mainboard and it uses the latest VIA VX855 media system processor. The processor allows the small system to play H.264 video at full HD resolution. The device provides hardware acceleration for VC1, WMV9, MPEG 2/4, and H.264 codecs.
The board measures 10cm x 7.2cm and uses the fanless VIA Eden ULV processor. The system supports up to 2GB of RAM and requires no fan. The device also has HDMI out, a VGA port, and a pair of USB ports.