VIA Technologies unveils fanless AMOS-3002 carputer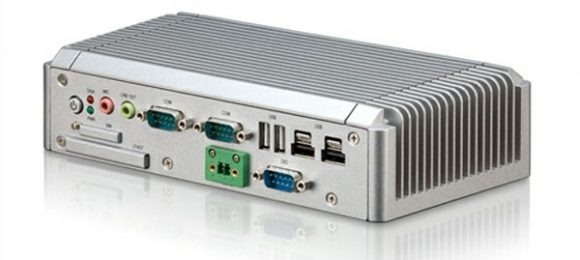 VIA has unveiled a new and very small computer aimed at use in the in-vehicle control, digital signage, and kiosk markets. The new computer is called the
will and it uses a dual core processor and measures a compact 197 mm x 104 mm x 49 mm. The processor inside the machine is a 1 GHz Eden X2 combined with the VX900H MSP.
The machine has small dimensions suitable for installation in tight spaces, and still supports full HD 1080p video output. The computer has plenty of I/O options on the front and rear panels with two com ports, six USB 2.0 ports, line in and out ports, VGA and HDMI outputs, in a pair of gigabit LAN ports. The machine can be optioned with Wi-Fi and 3G connectivity as well using an available miniPCIe expansion slot.
The computer is very rugged with the ability to withstand shocks of up to 50 G's and the ability to operate in temperatures of -20 to 60°C. Two of the available USB ports are also lockable so connected accessories and peripherals won't come undone. The little computer can also be mounted on wall or table using VESA mounts.
"The VIA AMOS-3002 advances the ultra compact AMOS series systems, delivering fanless dual core computing and advanced multimedia capabilities," said Epan Wu, Head of the VIA Embedded Platform Division, VIA Technologies, Inc. "The superior versatility and reliable compact design of the VIA AMOS-3002 makes it ideal for a diversified range of embedded applications."