VIA ARTiGO A2000 Barebone Storage Server Review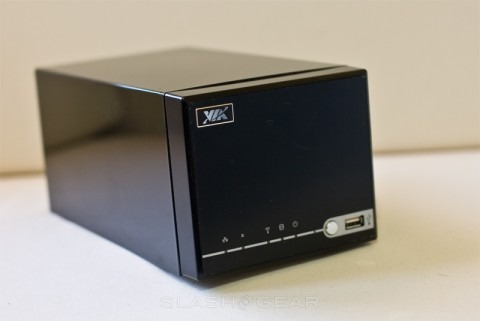 Bring-your-own-drive backup is nothing new, but it's rare to find a full PC lurking inside. That's where VIA's ARTiGO A2000 steps up; having dropped in a 1.5GHz C7-D processor and twin SATA-II 3GB/s support, VIA are offering the NAS form-factor with enough grunt to run Vista, should you be so inclined. SlashGear set out to discover whether the A2000 is an ambitious success, or simply bites off more than it can chew.
The ARTiGO A2000 itself resembles pretty much any small-form-factor (SFF) PC, only without an external optical drive. Measuring 5.3 x 4.5 x 10.2 inches, it has a gloss-finish black front panel and matte-finish metal chassis. Visible ports include a single USB 2.0 on the front, together with two USB ports, gigabit ethernet, VGA output, audio in/out and power connections at the back.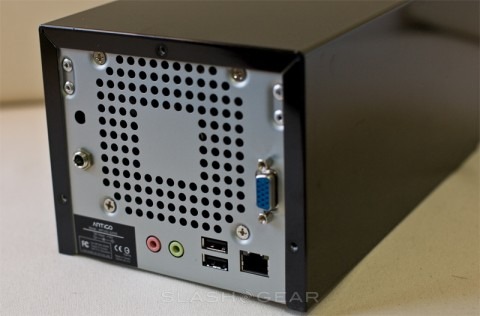 In the box, VIA provide the A2000 itself, a setup CD, eight hard-drive screws (enough for two drives), a power cord and AC adapter, and an installation guide. On the CD there's VIA's own Security Software Suite, together with the ARTiGO A2000 System Management Tool and various drivers for the hardware.
The ARTiGO A2000 is based on a custom VIA Pico-ITX board running a 1.5GHz VIA C7-D processor and the company's VX800 Unified Digital Media IGP chipset. It's happy with a single stick of up to 2GB DDR2 RAM, can connect to two 3.5-inch SATA-II 3Gbps drives, and has an internal DMA-compatible CompactFlash socket that can be used to boot from. Standard networking is wired, but VIA also offer an optional WiFi b/g module with an external antenna; there's a pre-cut hole for it on the back-plate. Cooling is courtesy of an 8cm low-noise fan.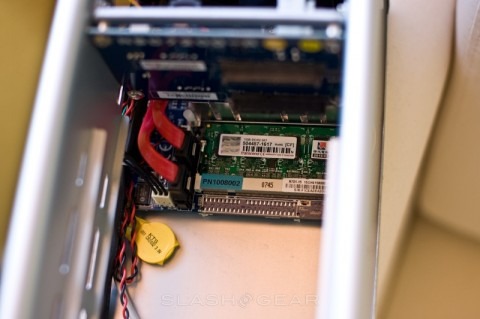 Setup is more complicated than a standard bring-your-own-disc NAS, but then again the ARTiGO can do much more. While it's intended to be a storage server, you could feasibly use it as a low-power desktop PC; VIA have tested it with – and support installations of – Windows XP, Vista, Ubuntu 8.04 and SUSE Linux Enterprise Desktop 10 with SP2. It will support others, of course, but don't expect miracles from their tech support team.
Slot in a stick of RAM (our demo unit came with 1GB), drop in two SATA-II hard-drives, and the A2000 hardware is ready. Once you've loaded the OS of your choice, VIA's own software is enough to get the ARTiGO running as a storage server. The StrongBox utility allows up to 10 encrypted virtual drives to be created, and since the A2000 uses a hardware engine for data encryption, it takes place with virtually no CPU load.
VIA's System Management Tool, meanwhile, monitors system temperature, system/CPU fan speed, system voltage, storage capacity and manages low capacity alerts. It can also be used for power-off scheduling and, if the WiFi module is installed, basic wireless LAN controls. Finally, the Tru-Delete utility offers more file wiping confidence than a standard delete.
While none of this might sound too different from a standard PC set up as a file server, VIA have made a few tweaks to especially suit the A2000 to data duty. They promise up to six times the lifespan of a regular PC, thanks in part to high quality solid capacitors, and over that period it should use less power – courtesy of the frugal CPU – and make less noise. In fact noise levels are quoted as being below 26.8dB; the A2000 is certainly hardly noticeable in a quiet room, and once you bring another computer into earshot you're unlikely to remember the ARTiGO is there.
The VIA ARTiGO A2000 makes most sense, perhaps, when you consider it with a cut-down Linux build like FreeNAS, running the OS off of a CompactFlash card and saving the two hard-drives solely for data. That way you get the speed of solid-state memory and the capaciousness of up to two 1.5TB drives. Being a full PC, rather than just a more-capable NAS, you can run any number of FTP or P2P download clients and leave the A2000 to work while your main computer handles more interesting tasks. Alternatively, switch on something like Windows Media UPnP sharing and the ARTiGO becomes a media server.
There's room for improvement, of course. Hardware RAID support is an obvious omission, meaning you're forced to use software RAID if you're looking for data redundancy. Still, for $299.99 (without drives, RAM or OS, though at least one retailer is throwing in a free 512MB stick) it's something of a bargain, especially when you consider something like D-Link's DNS-323 barebones NAS is around $178 and lacks much of the flexibility. Those looking for instant backup or media sharing should probably look elsewhere first, but anyone who prioritizes customization ought to give the VIA ARTiGO A2000 a look.