Vespa Elettrica is an electric version of the classic scooter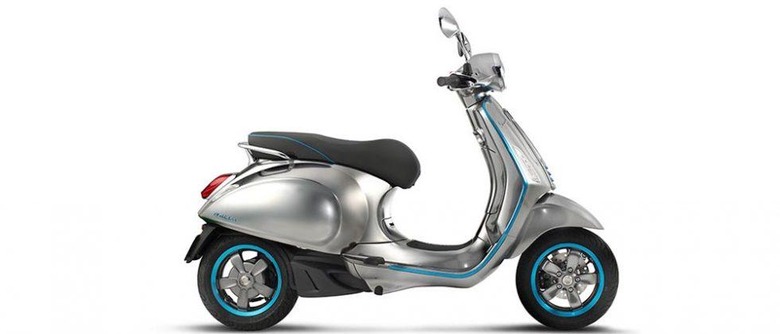 The iconic Vespa scooter will soon be available as an electric offering, with maker Piaggio Group revealing earlier today the new Vespa Elettrica. Unfortunately, the company hasn't offered many details about the upcoming model; this announcement instead concerns itself with confirmation that yes, it really is happening. The Elettrica model features the classic Vespa look, but with a modern light blue stripe accenting the design.
Piaggio Group announced the upcoming scooter model at Eicma 2016 alongside some other Vespa models, including the Vespa RED, as well as some motorcycles like the Moto Guzzi V7III. The Vespa Elettrica is an all-electric model with a silver body and a bright, light blue accent stripe that hints at the model's electric nature. The scooter is a concept at this point, with Piaggio saying it is looking for 'advanced [industry] players' to help it develop the final form.
The company plans to offer the electric Vespa model in the second half of 2017. Features it will offer, including things like charge time and range, haven't been stated at this time. However, Piaggio says the Elettrica will 'be a true Vespa' with all the aspects fans have come to know and love...there will just be an extra layer of modern electric technology on top of it.
Once it launches, riders will find the electric version rides the same as non-electric models, with the same level of 'agility, ease of use and riding pleasure,' according to the company. The big selling point here, of course, is that an electric scooter is more environmentally friendly with zero emissions and, depending on where it is located, possible energy usage derived from solar or other sustainable sources.
SOURCE: Piaggio Group