Verizon Wireless Announcing Latest Generation Of DROID On June 23rd [Update]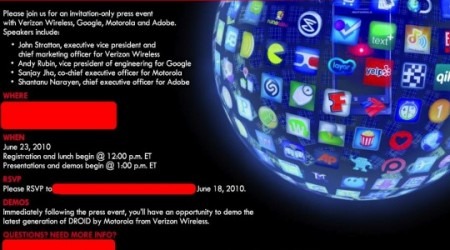 We had heard mumblings that the next DROID would be announced some time soon, and it looks like Verizon Wireless was tired of waiting. We just got an invitation to the next big press conference, which will be hosted by Verizon, and feature speakers from Motorola, Adobe, and Google. Basically, everyone who would need to be talking to promote the next handset to feature the latest version of Android, on a big, big device.
So, what big device is it going to be? We heard that Verizon and Motorola were going to launch two DROID devices in July, and we imagine that it wouldn't take much imagination to assume that they could be talking about two devices at the press conference, but our money is on one device: the Droid X. While the Droid 2 has been rumored as well, it just doesn't feel like its big enough to get this kind of attention.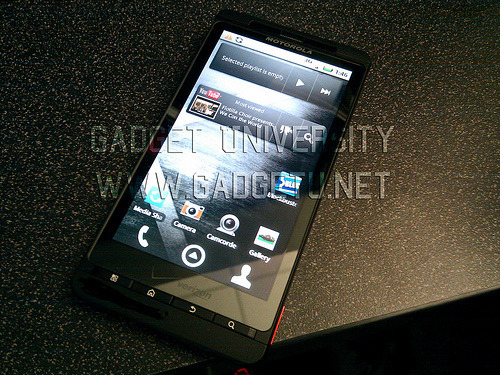 As for the Droid X, we'd be looking at the official unveiling of the 4.3-inch device. Which, will at least run Android 2.1. But, considering the CEO of Adobe is going to be on hand to talk about something, we might be willing to place our bets that it will be the first device on Verizon to run Android 2.2, or Froyo. We're also looking at a 1GHz processor under the hood, and a new version of Motorola's MOTOBLUR, codenamed NinjaBLUR. Of course, we're going to be there, live, giving you all the breaking information as it happens thanks to our legendary live blog. So, head on over to http://live.slashgear.com on June 23rd, beginning at 1:00PM Eastern, and get ready to meet the next generation of DROID.
[Update]: Well, looks like we don't necessarily have to wait until June 23rd to get a glimpse of what's coming down the pipe for the DROID lineage. Thanks to our friends over at Engadget, we get to see the DROID X first-hand, and watch as they snap through the homescreens. First impressions are always the most important, and it looks like they're pretty excited about what Motorola has in store for Verizon customers. Here's what they've confirmed: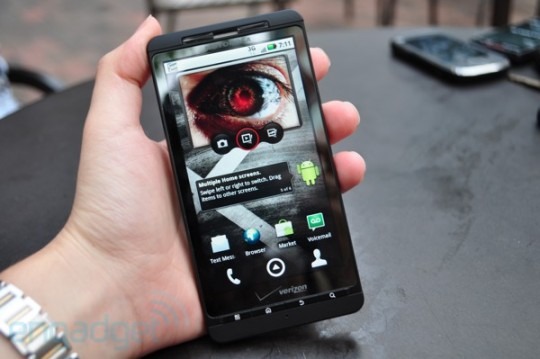 The DROID X doesn't have a 4.3-inch screen, apparently. It's actually 4.4-inches, and it features FWVGA at a resolution of 854 x 480. They weren't able to directly confirm it with the model they got to spend some time with, but they aren't saying it isn't possible. The screen's very crisp, and the capacitive touchscreen is very responsive. Hardware wise, it's thin. It's also longer, and just a little bit wider than the current Android big-wig, the EVO 4G. And there aren't any capacitive buttons on the bottom, but good old-fashioned hardware keys. They do say that it feels remarkably light, lighter than they had assumed it would, but it feels solid, and well built. It does fit in the pocket, but there's definitely a presence there.
They were also able to confirm that the DROID X is indeed running Android 2.1, and there's definitely some new version of MOTOBLUR running behind the scenes. They are quick to point out that the whole UI customization isn't so "up-in-your-face" this time around, though. They aren't sure how they feel about it, which is to be expected with any customization after spending such a short time with it, but from what we can see, we've got to admit that Motorola has indeed made some interesting changes.
As for the 8MP camera on the back, it does indeed record video at 720p. There's a tap-to-focus feature, but it doesn't actually refocus until after you've actually snapped the image. They also noted that the physical camera button, while a welcomed addition, is a bit too stiff, and therefore they found that images come out shaken, and not as exact as they'd like. While the video recording is a bit laggy, the video does play back smoothly. The white balance fluctuates quite a bit, as does the exposure.
The last two bits are about the software keyboard and the software itself. Motorola preloads the Swype keyboard, so that's good. However, they are also throwing in a multi-touch keyboard for good measure. That's right, Engadget tested it, and the keyboard does indeed register two keys pressed at the same time. It looks responsive, too. Very responsive. And then the performance. They say it's "snappy," and we wouldn't argue that at all. It looks very, very slick, and Engadget does confirm that there's a 1GHz processor under the hood. (No, not a Snapdragon.)
So, there's the DROID X. No, it's not official yet. That's coming on the 23, so stay tuned. We're curious, now more than ever, as to why a head-honcho of Adobe is on the scene, and we're sure you are, too. So, stay tuned to http://live.slashgear.com on June 23rd, starting at 1:00PM Eastern, as we bring you the latest information.
[via Engadget]