Verizon Stream TV 4K set-top box is free for new 5G Home customers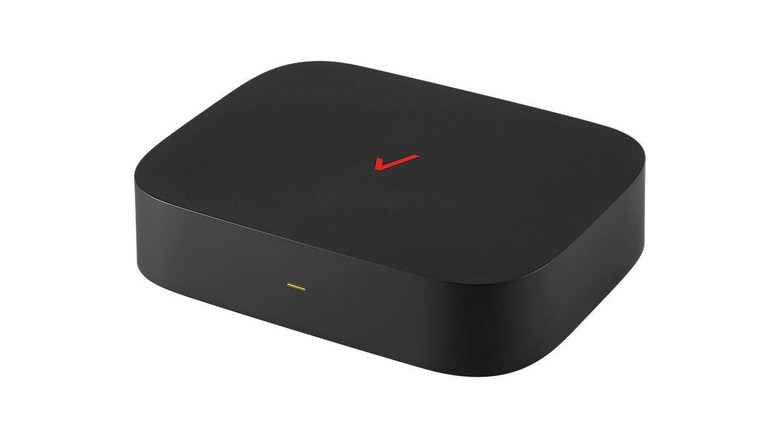 Verizon has launched its new Stream TV, a set-top box running Android TV that supports 4K Ultra HD video and includes a Google Assistant voice remote. The box is being offered for free to new Verizon 5G Home customers alongside a free month of YouTube TV service, but there's a big downside that will make it less than useable for many customers: lack of Netflix support.
The Verizon Stream TV resembles other set-top boxes on the market; it's small, vaguely square-shaped, and includes a simple remote control. The box itself is black and there's a large red Verizon checkmark symbol on the top. The few ports the box contains are arranged alongside its rear edge; you hook it up to your TV using an HDMI cable.

As with any other set-top box, users can launch apps for different services — though not Netflix, it has been noted — to watch content. Verizon 5G Home customers can get the box for free until the end of the year, but everyone else will have to pay $69.99 USD for it. Verizon also offers its new 5G Home customers the option of selecting a different device, such as a Fire Stick or Fire Cube.
The Verizon Stream TV isn't a bad option as a totally free device, though the Fire models will largely offer users access to more content. The upside is that this model has Chromecast built-in and it comes with Google Assistant, which can be used with the device's remote control. It's unclear exactly how many apps it supports, but there's definitely YouTube TV and Disney+ support.
For those who can't get the Stream TV for free, the Fire TV Stick 4K is a better deal — it's substantially cheaper at around $35, it supports Netflix, and it likewise includes a remote with support for using a personal assistant. You'll just need to be fine with using Alexa instead of Google Assistant. Alternatively, users could also get a Chromecast at a lower price with the same casting ability.